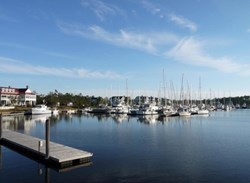 Best Customer Service Marina
New Bern, North Carolina (PRWEB) October 18, 2013
Having fun and staying fit go hand in hand when people live in the best coastal community in North Carolina. Owners at River Dunes NC have plenty of opportunities to enjoy the beauty of the outdoors and mild coastal climate while maintaining their fitness and creating life-long friendships.
River Dunes' Grace Harbor Marina provides easy access to the Pamlico Sound and the Intracoastal Waterway. Transient boaters are welcome and can enjoy all the amenities of the Harbor Club while staying in a slip or in one of the harborside guest cottages. 
This month, Marinalife named River Dunes as Best Customer Service Marina for its excellence in customer service, based on the actual reviews of boaters. River Dunes has 124 boat slips accommodating boats up to 90 feet in length. River Dunes had previously won the award Sustainable Community of the Year for going green though its zoning, planning and development process including recognition as a Clean Marina.
River Dunes' owners have the opportunity to participate in a wide array of on-site sports and leisure activities such as bicycling, stand-up paddle boarding, kayaking and clay shooting.
For the those wanting to try out the area byways via bicycle, the River Dunes Roadies is the group to join. The Roadies was created last spring with the intent to build new friendships and stay fit. Just recently the cycling group participated in the Bike MS: Historic New Bern Ride. The teams chose to ride 35, 50, 75 or 100 mile routes beginning in nearby New Bern NC. River Dunes hosted the rest area and lunch stop for the 75 and 100 mile rides on Sunday.  Bike MS is a very popular ride with over 2000 cyclists from all over the country raising funds for the National MS Society.  It's clear that River Dunes owners enjoy participating in local fundraising events and giving back to the community in many different ways.
Recently, River Dunes announced the newest addition to its NC waterfront amenities - tennis courts. The courts are being constructed with the finest Har-Tru Clay materials to enhance performance and strength for beginner and advanced tennis players. The courts will be completed soon and will add to the list of amenities available to owners and guests at River Dunes NC.
River Dunes has also added four new stand-up paddleboards and six new single and double kayaks to the equipment inventory available to club members, owners and guests.  The safety of the protected marina and surrounding creeks provide excellent locations to try out new skills or practice old ones. 
One of the highlights of the year for property owners is the Annual Property Owners Homecoming Weekend.  Held in October, new residents and existing homeowners have a chance to meet and greet and participate in the many coastal lifestyle activities offered at River Dunes. Attendees can practice their marksmanship with clay shooting, explore the terrain on a nature hike, fish for trout and drum, or paddle in the kayaks. A yummy oyster roast has become a community tradition and is sure to satisfy hungry appetites after the exciting outdoor activities.
With a year round mild climate and beautiful facilities, this award winning NC coastal community is a great place to live for anyone who enjoys life on the water. Whether on foot, bicycle or water, the extra mile is always more fun at River Dunes.
About Real Estate Scorecard:
Real Estate Scorecard writes unbiased real estate reviews providing in-depth information about popular gated communities in Florida, Georgia, North Carolina, South Carolina and Tennessee, all in an effort to help people discover where to retire in the Southeast.
Website: http://realestatescorecard.com