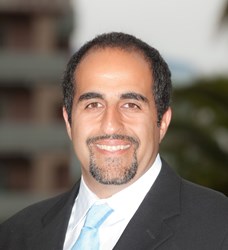 Sam is a true information technology veteran, with over 20 years experience working with and leading IT departments for a broad range of companies.
Irvine, CA (PRWEB) October 16, 2013
Spireon, the leading M2M provider of Mobile Resource Management and business intelligence solutions used by companies to maximize their mobile assets and workforce, is pleased to announce the addition of Sam Balooch to the leadership team.
Balooch assumes the role of Spireon's Chief Information Officer (CIO), and will direct the company's key information technology initiatives.
"Sam is a true information technology veteran, with over 20 years experience working with and leading IT departments for a broad range of companies," says Spireon CEO Marc Brungger. "The addition of Sam rounds out the expertise of our executive leadership team, and will propel us forward as we evolve our solutions to meet the needs of our customers across our multi-vertical markets."
Balooch's responsibilities includes the development of Spireon's strategic technology goals to increase and expand Spireon's information accessibility and integrated systems management. He oversees Spireon's Network Operations Center (NOC), infrastructure and cloud systems, network systems, and data architecture that support the company's award-winning NSpire M2M Business Intelligence Platform.
"My priority is to ensure the NSpire platform continues to deliver the superior service availability, speed, reliability, scalability and security our customers need to stay instantly connected to their business intelligence and to assure the right business applications and processes are in place to take the organization to its next level," explains Balooch.
Prior to joining Spireon, Balooch served as the CIO for MIND Research Institute for six years. During his tenure there, Balooch developed an industry-leading private cloud educational software platform comprised of the latest Cisco, VMWare and HP 3-Par storage technologies. Balooch's past experience also includes his role as Vice President of IT at Kintera Inc, a recognized provider of Software-as-a-Service (SaaS) solutions to several industries. His management experience extends to such technology leaders as Intuit, Ford Motor Company's telematics operations Wingcast, and Silicon Graphics Inc.
"I look forward to collaborating with Spireon's leadership team as well as employees to bring our customers end-to-end M2M solutions that allow them to improve their business performance and drive more profitability to their bottom line," says Balooch.
About Spireon
Spireon, Inc., is at the summit of business intelligence and committed to going higher. With its corporate headquarters in Irvine, CA, the company emerged in 2011 as the industry leading Mobile Resource Management (MRM) company as a result of the merger of ProconGPS, Inc. with EnfoTrace and PFS, LLC, the top three providers in the MRM space. Spireon connects companies to their mobile assets and workforce through game changing information platforms, giving them the power to manage actionable business intelligence. Its trusted brands include market share leader GoldStar GPS®, EnfoTrace GPS™, FleetLocate®, VehiclePath™ and LoanPlus CMS™. Inspiring companies to reach new heights with powerful Software-as-a-Service (SaaS) based tools; Spireon provides a sturdy foundation on which to optimize performance.
With leading market positions in the fleet, transportation and automotive telematics markets, Spireon, Inc. specializes in developing strong business relationships with leading companies worldwide, enabling it to offer affordable world-class risk mitigation, mobile resource management and location based services to its customers.
For additional information, please visit Spireon, Inc.'s website http://www.spireon.com.