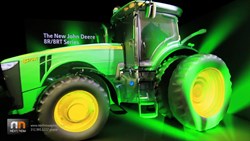 This was the kind of project that NEXT/NOW was created for.
Chicago, IL (PRWEB) October 24, 2013
Award-Winning Experiential Agency, NEXT/NOW™, collaborated with John Deere to create a dynamic visual experience to launch the latest release of the flagship 8R tractor series. Using a process called projection–mapping, animated digital scenes and special effects were created and specifically warped to 'paint' the tractor into elaborate motion scenes.
NEXT/NOW Founder and Chief Creative Officer, Alan Hughes says, "We knew the launch of this tractor was 'Super-Bowl-important' to John Deere. This tractor embodies the legend of the company as well as being one of their best selling units. Both NEXT/NOW and John Deere knew that the new product reveal could not be a by-the-book experience."
Alan continues, "We realized that this audience has most likely never seen a fully projection–mapped vehicle in real life, much less a 16 ft. tall John Deere tractor."
John Deere Marketing Manager, Jarrod McGinnis states, "We knew we wanted something with WOW, surprise and visual gravitas. NEXT/NOW delivered that in spades and the audience reaction was through the roof. "
Lead NEXT/NOW Creative Technologist Joe Govi and his team spent hundreds of hours perfecting the dynamic visual animation that played not only on the tractor, but also in an immersive environment surrounding it.
Joe commented, "The big breakthrough for us was when we learned that we could design the animations and visuals on the giant tractor and the floor and walls surrounding it, creating a large-scale, real-life, immersive, experience."
Sheila Scullin, Project Manager stated, "This was the kind of project that NEXT/NOW was created for. Not only was it visually stunning, but it was rolled out simultaneously on 2 continents and in 12 different languages over a 6 week period."
Currently in the planning stages is an additional show in Europe.
About NEXT/NOW
NEXT/NOW creates digital brand experiences for physical spaces & places. We are leaders in kinect™, projection-mapped, and multi-touch interactive installations for exhibits, museums, retail, and corporate environments. We can't think of anything we would rather be doing.
The tools we use are next-generation interactive installations, utilizing multi-touch surfaces, gesture-based reactive interfaces, real-time video integration, iDevices, and unique video projection mapping. Clients include Accenture, John Deere, Steelcase, LG Electronics, Farmers Insurance, Atlas Copco, Big Ten Network and NEC. Learn more at http://www.nextnowagency.com
About Deere & Company
Deere & Company is a world leader in providing advanced products and services and is committed to the success of customers whose work is linked to the land – those who cultivate, harvest, transform, enrich and build upon the land to meet the world's dramatically increasing need for food, fuel, shelter and infrastructure. Since 1837, John Deere has delivered innovative products of superior quality built on a tradition of integrity. For more information, visit John Deere at its worldwide website at http://www.JohnDeere.com.
Contact
To learn more about this and other NEXT/NOW projects, please contact
Randy Gress, Director of Business Development
randy(at)nextnowagency(dot)com
Telephone-312.945.6222
Janna Retzler, Client Experience Manager
janna(at)nextnowagency(dot)com
Telephone-312.945.6222