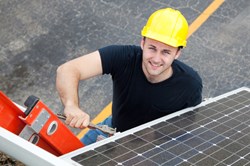 Burbank, CA (PRWEB) October 17, 2013
Renewable energy is a hot topic in today's market. While businesses and home owners in rural areas are looking to wind-produced energy, property owners in more urban settings are seeking to lower their energy dependence by installing solar panels on buildings and homes. The construction of these solar panels and the installation is an emerging business concept and companies involved in this trade need general liability insurance that covers investments and liabilities. The industry has inherent risks that are not covered under general insurance.
General liability insurance will protect the business owner if a customer or visitor sustains an injury on a worksite or in a workshop. Employees can place panels on the ground and a passerby could trip, or an installation employee could accidently allow a panel to fall hitting someone on a lower level. With general liability insurance the solar contractor is protected against medical and legal fees for these and other incidents.
An accident or incident may arise when a customer or customer's property is damaged by a product the contractor or installer is using. This general liability policy will cover the insured even if the faulty product was manufactured or purchased from a third party. Medical and legal fees will be paid regardless of the policy holder's fault.
There are incidents where work has been done to specification and a year later the customer claims that work was inferior or the solar panel did not perform as promised thus causing damage. Under the General Liability Insurance for individuals and companies in the solar industry the work done today is covered in later months or years.
In this age of Facebook, tweets and standard advertising, general Liability insurance can cover the business owner when inadvertent use of copyrighted words or images are used and even if false statements were made about a competitor on social media.
To learn how USA Business Insurance can help solar panel contractors, manufacturers and installers with general liability insurance, visit http://businessinsuranceusa.com/business-insurance-solar-energy.
About USA Business Insurance: USA Business Insurance is a national insurance carrier that writes many types of coverages and bundled policies for individual niche industries as well as general retail and wholesale businesses.