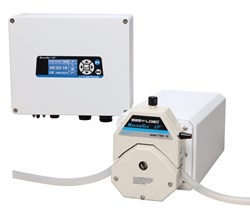 (PRWEB) October 17, 2013
Masterflex now offers a modular peristaltic pump in their I/P line for manufacturing processes, quick fluid transfer in the lab, and industrial applications. The new Masterflex® I/P® Digital Modular Dispensing Drives from Cole-Parmer are precision digital drives with flow rates ranging from 0.0006 LPM up to 26 LPM. Three dispensing modes and low-maintenance motors add to their flexibility. Plus, the pump's motor and controller can be placed separately for optimal convenience.
These Masterflex peristaltic pump drives feature a programmable dispense interval that lets users set the delay between dispense cycles for automated dispensing by time or by volume. To increase dispense accuracy and prevent dripping, a programmable antidrip function briefly reverses the motor at end of the dispense cycle. Precise PWM speed control (±0.1%) maximizes accuracy and efficiency while the brushless motor provides quiet reliability. Programmed calibration ensures dispense and display accuracy—the drive stores one calibration value per tubing size. Users can program the drive via the simple membrane keypad; keypad lock/unlock feature protects settings. The graphical LCD shows four operating modes and a menu-driven interface offers seven languages for programming.
Choose from two models: the unit with a benchtop controller or the washdown, wall-mount unit. For more information on the new Masterflex I/P Digital Modular Dispensing Drives from Cole-Parmer, call 800-323-4340 or go to ColeParmer.com/20558
Cole-Parmer has been a leading global source of laboratory and industrial fluid handling products, instrumentation, equipment, and supplies since 1955. Our product lines, including popular brand names such as Masterflex®, Oakton®, and more, are sold through company-owned customer channel outlets and a strong network of international dealers. We also feature an ISO-17025-accredited metrology lab for instrument calibration and repair. Cole-Parmer responds with excellence to customer needs, and offers application expertise and technical support. For more information, contact Cole-Parmer, 625 East Bunker Court, Vernon Hills, IL 60061. In the US, call 800-323-4340. International customers, call 847-549-7600. Visit us at ColeParmer.com