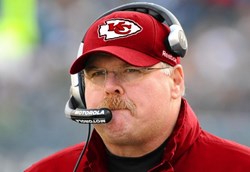 Denver, Colorado (PRWEB) October 17, 2013
Fickle or faithful, fans worship winners. They also adore the underdogs, the come-from-behind heroes who prove the impossible can suddenly become possible; and, that dreams do indeed come true.
Such is the case with the formerly ill-fated Kansas City Chiefs. Just last year, the team finished another dismal season, dropping to 2-14. They went 2-14 in 2008 as well, and did a little better for a bit. But now, with a new coach and a new attitude, the Chiefs are off to a 6-0 start.
New head coach Andy Reid, just sacked by the Eagles for 14 years without a Super Bowl win, and new GM John Dorsey, got together and made several key personnel changes in the offseason. They also added speed to both sides of the ball, adapted the talent on hand and worked to lighten the mood. So far, so good.
"The Chiefs have tough competition on the field and off, especially when you add in all of the other college and professional sports events, such as MLB Baseball postseason and NHL hockey," said Felina Martinez at online ticket marketplace BuyAnySeat.com.
"That's why we're proud to offer fans the most comprehensive and continuously updated selection of sports tickets online, with a worry-free guarantee to protect their purchase," said Martinez.
"To access the total roster of NFL Football tickets now available, customers can go to BuyAnySeat.com and click on NFL Football – then select their team and their tickets," said Martinez.
According to published reports, John Dorsey, a 53-year-old former NFL linebacker, and Andy Reid, a 55-year-old former college lineman, sat down last January to plan the Chief's turnaround. They had worked together on the Green Bay staff from 1992 to 1998, when Reid was an assistant coach and Dorsey a scout.
He and Reid agreed on several necessary personnel measures—a new quarterback, a defensive-scheme shift and an influx of speed. But before that, there were fences to mend with players, media and fans. They also asked the players to think of the Chiefs as a football family, and stressed the positives over negatives.
They wanted a quarterback who limited mistakes, managed the game and was a calming locker-room presence. Alex Smith, unwanted in San Fran, was the ideal man for the job. The duo also hired former Jets coordinator Bob Sutton, whose defense has already eclipsed the team's 27 sacks last season.
With 10 sacks on Sunday against the Raiders, the Chiefs are at a league-best 31. And, for the first time in seven years, the Chiefs defeated the Oakland Raiders at Arrowhead, 24-7, and extend their undefeated streak to six games.
In terms of this week's Power Rankings, the Top Ten teams heading into Week 7 are the Denver Broncos, Kansas City Chiefs, New England Patriots, New Orleans Saints, Seattle Seahawks, Indianapolis Colts, San Francisco 49ers, Cincinnati Bengals, Green Bay Packers and Detroit Lions.
Hot match-ups this week include the Broncos at the Colts with Peyton playing his former team. Some are predicting a Broncos loss as one of the best passing offenses in the NFL is edged 35-31 by one of the best passing defenses in the league.
Other featured games are the Chiefs against the Texans, with K.C. going to 7-0 on a 30-13 win. The Cowboys Eagles game is also a pundit pick, with Dallas emerging 42-35. The Ravens are also expected to snuff the Steelers 21-17 in another close contest. (Source: bleacherreport.com)
To shop for discount NFL Football tickets, visit BuyAnySeat.com.
About BuyAnySeat.com: An online ticket marketplace, BuyAnySeat.com connects sports, theater and other live entertainment fans to an extensive network of ticket sellers worldwide. The site's simplified listings and navigational tools enable shoppers to easily locate, compare and purchase inexpensive, discounted or lower-priced tickets to virtually all advertised sports and entertainment events around the globe.
The ticket marketplace, which is PCI-compliant and Norton Secured, also provides customers with a complete Worry-Free Guarantee on all ticket purchases. Based in Denver, Colorado, BuyAnySeat.com is a subsidiary of Denver Media Holdings. For more information, please visit http://buyanyseat.com.