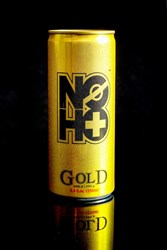 Scottsdale, AZ (PRWEB) October 17, 2013
Capitalizing on NOHO Inc.'s (OTC: DRNK) recent national distribution deal, the premium and functional lifestyle brand is excited to announce its products are now available in three additional states, Texas, Colorado, and Idaho.
Second to no other product currently available in the premium and functional lifestyle categories, NOHO's rapid growth within the marketplace can be attributed to the vast consumer demand for its popular 2 oz. shot "The Hangover Defense", as well as its newest product offering, NOHO Gold, a healthy premium mixer that is lighting up the nightclub scene at an incredible rate. Entirely caffeine and energy free, NOHO's products appeal to individuals with socially active and physically fit lifestyles by protecting one's body from dehydration, fatigue and the adverse effects of alcohol consumption.
Dr. David A. Galardi who is responsible for creating the original NOHO formula states, "NOHO has recognized the ongoing trend of a large percentage of the population's desire to maintain an active, yet healthy lifestyle. The development of the NOHO product line represents the importance of natural balance as it aids the body by pre-loading it with a balanced use of carbohydrates, proteins and fats in one healthy drink. With NOHO, now individuals can enjoy a cocktail or two in a much healthier way."
The consumer reaction speaks for itself as NOHO "The Hangover Defense" 2 oz. shot has quickly become one of the top selling items in luxury hotel minibars around the world. The 2 oz. shot is also a top seller at Duane Reade, New York City's largest drugstore chain. Packaged in multiple ways, including one or two-shot combinations, it is designed for one shot to be consumed prior to your first alcoholic beverage and another immediately after your last to pre-load one's body with the essential nutrients and electrolytes that are lost while drinking.
Moving into the premium beverage arena, NOHO Inc. recently launched NOHO Gold, a healthy mixer alternative that is now setting a new standard in nightlife. Packaged in a striking 8.4 oz. aluminum gold can, NOHO Gold is only 30 calories per serving and is a fantastic refreshing beverage with a sparkling, light-ginger flavor that allows consumers the ability to reap its benefits without the health risks associated with mixing energy drinks and alcohol, as previously reported.
For more information and where-to-buy, visit http://www.nohodrink.com
ABOUT NOHO - Premium and Functional Lifestyle Beverage
Distributed by Dolce Bevuto, Inc., a wholly owned subsidiary of NOHO, Inc., NOHO "The Hangover Defense" 2 oz. shot and NOHO "Premium Lifestyle Beverage" Gold 8.4 oz. can, are category leaders that are changing how consumers support their active and social lifestyles. The NOHO 2 oz. shot is the #1 selling hangover prevention shot on the market that helps you love your body by protecting it from the adverse effects of alcohol. NOHO comes in the form of a two shot combination, one shot to be taken prior to your first alcoholic beverage and one after your last, and is packed with essential nutrients and electrolytes making it as healthy as it is reliable. This beneficial carbohydrate, sugar, and caffeine free drink has quickly widened its distribution from California, Arizona, Nevada, North Carolina, Pennsylvania, Tennessee, Kentucky, Georgia, Louisiana, Florida, Pennsylvania, and Delaware, to now include Texas, New York, Miami, Idaho and Colorado. International markets include Ireland, UK, Mexico, Austria, amongst others. NOHO is currently sold at 7-Eleven, Circle K, Duane Reade, BevMo, ampm, Terrible Herbst, Mobil on the Run, Total Wine, SPECS, Roger el Jefe, and more. The expanding list of hotels and hotel chains already using NOHO include The MGM Casino, W Hotels, Westin, J.W. Marriot, Ritz Carlton, Shore Club, and the Sagamore, to name a few.
NOHO Gold, in an 8.4 oz. can, has taken over the nightclub scene, and is the new premium mixer and healthy drink alternative. Packed with nutrients and electrolytes and contains NO energy components - NOHO Gold's refreshing flavor and only 30 calories makes it a phenomenal beverage, as well as the perfect universal mixer.
For additional information on NOHO, please visit http://www.nohodrink.com and follow NOHO on twitter at http://www.twitter.com/nohodrink.