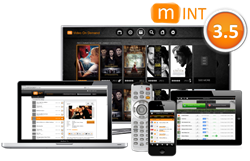 All operators are facing increased competition in the markets they serve, and our MINT platform is enabling them to increase their competitive stance, providing new personalized, blended services that make the usage of their services more compelling
TORONTO, ONTARIO, CANADA (PRWEB) October 17, 2013
UXP Systems, (http://www.uxpsystems.com), provider of the leading multiservice and personalization gateway for next generation television, is pleased to announce that MINT version 3.5 will be available for its existing and new customers in October, 2013.
"With this release of the MINT Software Suite, we are encouraging operators to Get Personal and deliver seamless, blended experiences to every user in the TV viewing household. Personalization is about much more than just managing 'sub-accounts' – it is about supporting the entire lifecycle of individual TV users as they are created, associated to various over-the-top services, authenticated and administered" said Jim MacDonald, VP Sales & Marketing at UXP Systems. "By implementing a consistent User Lifecycle Management Platform across all video, OTT and blended services, operators can deliver on the promise of a truly personalized and frictionless user experience. In addition, we are thrilled to announce two new Tier 1 Operators have embraced the MINT platform for their own next generation TV service initiatives. We will be releasing more information on these implementations as these services go live."
A major component of MINT V3.5 is the release of the MINT "AnyService SDK", a flexible toolkit that allows operators and their partners to quickly integrate new video and non-video services to the MINT Multiservice Gateway. This will allow 3rd parties to rapidly extend the MINT ecosystem of over 30 vendor integrations spanning OTT content, social media, communications, home control and core video systems, giving users a broader set of personalized services via their TV provider.
"All operators are facing increased competition in the markets they serve, and our MINT platform is enabling them to increase their competitive stance, providing new personalized, blended services that make the usage of their services more compelling", added MacDonald.
The new Multiscreen Interaction (MINT) Software Suite v3.5 includes:

Enhanced User Lifecycle Management capability across all associated services, and all account/sub-account users
A new library detailing User Lifecycle Management best practices across 45 major business processes and 400 out-of-the box MINT capabilities
Added support for Social Login
A new MINT interface to blend Home Control into TV via iControl
A new MINT interface to power multiservice recommendations via ThinkAnalytics
The MINT AnyService SDK (to enable the rapid introduction of new service models by operators and 3rd Parties)
Existing UXP Systems' customers will adopt and leverage the MINT v3.5 platform to update their existing multiscreen initiatives, ensuring even better user management and more flexibility for the deployment of future services.
About UXP Systems
UXP Systems' award winning MINT Software Suite enables operators to go beyond the household and personalize next generation video, integrate blended and over-the-top services and extend seamless, authenticated access to any screen. By combining its unique User Lifecycle Management and Multiservice Gateway capabilities, MINT enables true personalization while rapidly extending product roadmaps and transforming user experiences. For more information, please visit: http://www.uxpsystems.com.
UXP Systems Media Contact
Jim MacDonald
VP, Sales & Marketing
T: +1 416-358-1540
E: jim.macdonald(at)uxpsystems(dot)com