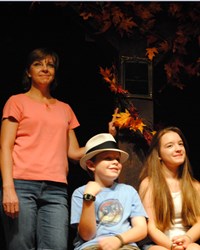 We've all got a story to tell, and Swamp Gravy has been telling them for twenty-one years.
Colquitt, GA (PRWEB) October 17, 2013
A woman stands alone on a dim stage, a lantern held in her hand, her eyes scanning the hushed crowd around her. Her voice rings out in the silent room, matter-of-fact words tinged with barely suppressed emotion, telling the story of a family's devastating chance encounter with escaped convicts. "There are no brothers left to tell this story," she says, so the burden falls to her.
Swamp Gravy, Georgia's Official Folk Life Play, exists to tell the stories of Southwest Georgia. Some, like the tragic story of the Alday family or the infamous story of the Anglin brothers, are familiar for the headlines they generated. Others are familiar in a different way: the names and the details may be different, but their themes are universal: family, community, friendship. Audiences of all ages, and from all regions and walks of life, can relate to the stories performed in Swamp Gravy.
This is the magic of Swamp Gravy. The all-inclusive attitude starts with the "Storytelling Song," penned by Karen Kimbrel. The lyrics of the song remind listeners the "we've all got a story to tell," and encourages them to share their own stories. The sets, costumes, and atmosphere invoke a sense of days gone by, giving the impression that the stories performed during the production could be memories from anyone's family.
The magic of Swamp Gravy is best experienced at the source, in person. The Colquitt/Miller Arts Council proudly presents this year's production, "Swamp Gravy: Brothers and Sisters," written by local playwright Debra Jones. Shows are every weekend in October, Fridays at 7:30 and Saturdays at 2:00 and 5:30. Tickets are available online at http://www.swampgravy.com, or by calling the Box Office at 229-758-5450. Tell us your story on Facebook or Twitter.