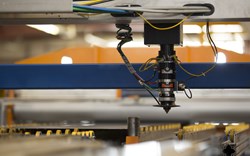 This solution opens up laser cutting of blanks from coil to a new group of users as well as enabling more complex design considerations.
Napoleon, Ohio (PRWEB) October 17, 2013
LaserCoil Technologies LLC has announced the launch of its new coil-fed laser cutting systems based upon patented technologies that deliver part-ready components for stacking at the end of the line as scrap is automatically shed during the cutting process. The LaserCoil machines can produce parts at higher speeds than have been traditionally demonstrated with laser cutting tables. This helps companies to achieve yield rates that allows them to consider laser cutting blanks vs. traditional stamping processes, helping eliminate the need for dies and achieving greater flexibility and quicker changeover. Furthermore, the system can be integrated with existing blanking line automation to simply replace the press, and can also be supplied with new automation as a complete line.
"Our solution opens up laser cutting of blanks from coil to a new group of users who could only accomplish applications previously through traditional stamping, as well as enabling more complex design considerations," said Jay Finn, LaserCoil's Chief Technology Officer. "Our systems involve significantly lower capital and operating costs and can operate with traditional feeding and stacking technologies — yet users gain flexibility, speed, and a level of quality that will surprise the industry."
Fast, Flexible and Finished: LaserCoil systems can process a wide variety of coil material in aluminum, mild steel, the new high-strength steels, and other materials for surface sensitive panels as well as structural components in thicknesses from 0.5 to 3.5mm and up to 2m wide coil at any length. As there is no need for traditional press dies, changeover is a simple as entering a new part number vs. the significant time required for a die change, and the systems are supplied with nesting and cutting software that optimizes material use. The flexibility of the LaserCoil approach makes it perfect for niche type part production appropriate for automotive, aerospace, agriculture, appliance or contract fabricators.
Contributing to the system's speed is LaserCoil's process, which relies on a series of dynamic profile conveyors that support the coil strip while providing a cutting path for the laser heads. These lanes independently and dynamically reposition to maintain a clear path below the moving laser head. This allows the coil to move forward through the system — without jogging the strip back and forth — while also automatically shedding scrap during the cutting process, delivering a burr-free, ready-to-stack part at the end of the line.
The laser cutting head, using linear-induction motors, delivers three-axis of motion (X-Y-Z) enabling cutting of tightly nested, complex curvilinear shapes. The systems are available with single or multiple heads, which allows a shared balancing of the workload to decrease processing time and improve productivity.
Whereas other coil-fed laser cutting systems require special coil feed and/or special stacking solutions, LaserCoil systems work with traditional feed and stacking equipment and can even be retrofit to existing press feeding lines, whether it uses side- or end-of-line stacking. When compared to traditional stamping presses, the LaserCoil system requires less infrastructure investment and can cost significantly less than a large blanking press.
Benefits of the LaserCoil cutting cells include the ability to:

Cut all varieties of metals…even pre-finished or painted coils
Eliminate premature dulling of dies when cutting the new high-strength steels
Eliminate presses, dies and associated maintenance
Provide unmatched nesting capability to enable far more complex shapes
Achieve near-zero dross, no heat-affect zone and improve edge quality and formability
Reduce part changeover time (<10 seconds part changeover)
Produce near-immediate 'idea to net shape' material costs savings
Deliver stack-ready components
Lower capital investment (significantly less than the cost of press blanking solution)
Use far less floorspace
Retrofit to existing press line equipment
Create an edge ready for laser welding (no reshearing)
For more information on this approach to laser cutting of coil strip, LaserCoil equipment or processing of components at the LaserCoil facility, call 419.592.0050.