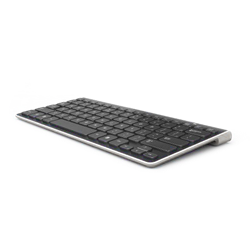 'Great ergonomic solutions aren't just for the office anymore. As work environments continue to evolve, so do we. The Goldtouch Wireless Bluetooth Mini is proof of our commitment to Mobile Ergonomics.' —Mark Norwalk, CEO, Goldtouch
Cedar Park, Texas (PRWEB) October 17, 2013
Goldtouch, the industry leader in the emerging field of mobile ergonomics, announced the arrival of their newest travel keyboard: Goldtouch Wireless Bluetooth Mini Keyboard, which goes on sale today. The product will be available through regular Goldtouch Reseller Channels. Orders can also be made at goldtouch.com.
The sleek, ultra-portable Goldtouch Bluetooth Mini Keyboard was created specifically for the modern, on-the-go lifestyle. Designed for tablets and mobile devices, the thin, lightweight keyboard is highly portably, and requires no wires or plugs.
"Mobile continues to be a huge priority for us," says Mark Norwalk, CEO of Goldtouch. "Working environments are constantly evolving, moving beyond PC's and laptops, to Tablets, iPads, mobile phones and other devices. This new keyboard is a great way for us to address the needs of the mobile worker while offering enterprise-level quality in the process."
Equipped with Bluetooth wireless technology, this mini keyboard is compatible with the full ecosystem of Mac and PC devices — from desktops to notebooks, tablets to smart phones. Plus, the Goldtouch Wireless Mini Keyboard comes with soft-touch keys for greater tactile feedback.
Another selling point for the new keyboard is its capacity to be paired with a Goldtouch Portable Laptop & Tablet Stand to create an ideal workplace on the road.
Features and Benefits:

Typing ease: With the Goldtouch Wireless Bluetooth Mini Keyboard, you can type lengthy emails on a phone or tablet.
Long battery life: The mini keyboard comes with 2 AAA batteries that last up to four months. A low-power indicator light lets the user know when it's time to change.
In synch: This slim keyboard will work with a whole range of Bluetooth-enabled Mac and PC devices, including desktop computers, notebooks, tablets, Android and iPhones, and other smart devices.
Portability: At just .5" think and only 10oz., the keyboard is lightweight and easy to travel with.
The new Goldtouch Wireless Mini Keyboard is available for purchase at goldtouch.com, or through Goldtouch's Reseller Channels.
ABOUT GOLDTOUCH
Headquartered in Cedar Park, Texas, Goldtouch manufactures ergonomic comfort peripherals, including the world's only self-contained adjustable keyboard. Through extensive 3rd party studies, and over a decade of use, the Goldtouch product line has been tested and proven to help prevent and reduce Repetitive Strain Injuries (RSI), increase productivity, lower absenteeism, and bring greater comfort to computer users across the globe. Goldtouch products are utilized by many of the Fortune 1000, including Chevron, Google, Apple, Yahoo, eBay, Blue Cross & Blue Shield and Toyota. Find out more at goldtouch.com or blog.goldtouch.com.