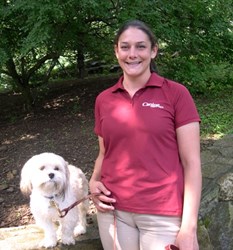 Wilton, CT (PRWEB) October 17, 2013
Since 1983, Canine Company has provided peace of mind for over 100,000 pet owners through the use of Invisible Fence® Brand pet containment systems. In recent years, they have expanded to become a full-service organization, capable of assisting you with many of your pet needs. The Manners obedience program was established in 2010, due to popular demand. Jen Hill, Owner and VP states, "For years, our clients raved about their experiences with our trainers. We heard many requests for more training services so we sought out the best trainers in the industry and developed the Manners protocol to help pet owners enjoy happier, well-behaved dogs."
In three years, the Manners program has expanded to cover select areas of Connecticut, Southeastern New York, Massachusetts, New Hampshire, and New Jersey. Unlike the traditional dog obedience school that simply trains the dog, Canine Company representatives empower owners and their family members by giving them the knowledge and skill set necessary to train their dog on their own. In-home training allows Manners instructors to observe interactions between families and their dog and to assess behavioral problems more easily. A familiar environment also helps the dog feel more comfortable and provides fewer distractions.
According to the Canine Company philosophy, the keys to a well-behaved dog are quality leadership, quality obedience, plenty of exercise, and a healthy dog. Manners trainers help pet owners understand the reason their dog is acting a particular way and provide instruction on how to communicate effectively with their dog. Consistency is essential, which is why Canine Company encourages the whole family to get involved in the training process when possible.
Private lessons allow Manners representatives to customize the training program based on your needs and the behaviors you would like to address. Packages are available for dogs of all ages and behaviors covered include: sit, down, wait, leave it, stay, come, easy, leash work, potty training, crate training, barking, digging, and more. According to program director Traci Simo, many of the owners seeking training have dogs between one and two years old and are at their wit's end. By working with puppies who have not yet engaged in negative behaviors, trainers are able to prevent them from showing up at a later point when the dog is fully grown.
In the end, the Manners program's greatest asset is the trainers themselves. These representatives serve as coaches that communicate advanced canine theory in a way that pet owners can easily understand. It is important that your trainer has a personality you can connect with and feel comfortable with in order to achieve your goals. Prior to the first meeting, pet owners fill out a questionnaire that allows Canine Company to match them with the best suited trainer to address their specific needs. Feedback is solicited during and upon completion of the program to ensure satisfaction. One client from Meriden, CT wrote in:
"I think my instructor is wonderful. I have learned so much from Jessica, and I now have the confidence to be a good leader to my dog. The training has been great, and my trainer is very knowledgeable, friendly, and enthusiastic. She is a great mentor and instructs in a very clear and easy to understand manner. I appreciate everything she has taught me. Her training has already enhanced my relationship with my dog. My trainer gets an A+."
To find out if Manners is available in your area, call Canine Company at (800) 818-3647. For more information on the Manners program, visit http://www.caninecompany.com/cmAboutUs.aspx.
Canine Company is a family of pet lovers dedicated to fostering rewarding, lifelong relationships between pets and their owners by providing products and services to keep pets happy, healthy, and safe. Canine Company offerings include Invisible Fence® Brand safety solutions, Manners in-home obedience training (available in select areas), and a variety of pet products. For media inquiries, please contact Audrey Lindner at marketing(at)caninecompany(dot)com.