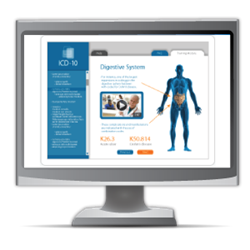 ICD-10 documentation training is an absolute necessity for a smooth transition next year.
Salt Lake City, UT (PRWEB) October 17, 2013
AAPC (http://www.aapc.com), the leader in advancing the business of healthcare, has launched an ICD-10 training for physicians in the final year before implementation. The 3-hour online curriculum teaches ICD-10-CM documentation requirements by medical specialty and from a provider's perspective.
AAPC's recent study (http://bit.ly/15TU3dV) of more than 20,000 audits of physicians' clinical documentation showed that only 63% of current documentation is sufficient to support the more rigorous ICD-10 requirements. The study goes on to note that if the facility is otherwise fully prepared for ICD-10, but clinical documentation is not improved, then accurate coding and proper payment will not be possible.
"One of the largest problems to follow ICD-10 implementation will be insufficient documentation," said Rhonda Buckholtz, AAPC VP of ICD-10 Education and Training. "Providers need to know what to do differently to avoid productivity loss, claim denials, compliance missteps, and lost revenue. ICD-10 documentation training is an absolute necessity for a smooth transition next year."
Physician training is available in the following specialties:

Anesthesia
Cardiology
Dermatology
Emergency Department
Family Practice
Gastroenterology
General Surgery
Internal Medicine
Mental and Behavioral
Multi-Specialty
Neurology
OB/GYN
Oncology/Hematology
Ophthalmology
Orthopaedics
Otolaryngology (ENT)
Pathology
Pediatrics
Pulmonology
Radiology
Urology
ICD-10 Documentation Training for Physicians is approved for continuing medical education (CME) credit, and a demo can be viewed at http://www.aapc.com/icd10physician.
About AAPC:
AAPC (http://www.aapc.com) is the nation's largest training and credentialing association for the business of healthcare, with more than 120,000 members representing physician offices, outpatient facilities, and payer organizations. AAPC certifications validate the knowledge and expertise of healthcare professionals in disciplines including medical coding, billing, auditing, compliance, and practice management. AAPC offers the industry-leading Certified Professional Coder (CPC®), Certified Professional Biller (CPB™), Certified Professional Medical Auditor (CPMA®), Certified Professional Compliance Officer (CPCO™), and Certified Physician Practice Manager (CPPM®) credentials, along with more than 20 specialty-specific coding credentials. AAPC also provides a wide variety of continuing education, resources, and networking opportunities.