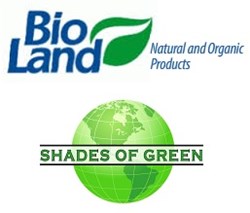 Tres Rios, Costa Rica (PRWEB) October 17, 2013
Bio Land announced today that they would be participating in an upcoming episode of Shades of Green.
In this segment, viewers will learn about Bio Land's beauty line and healthcare products, as well as the Bio Land stores, which are located in Juan Santamaría International Airport (SJO). Audiences will be amazed by Bio Land's homogeneous appearance of its products. Bio Land's quality products are said to enrich the lives and health of its customers, and the environment that surrounds them, for an immediate and long-termed benefit.
"Our company provides customers the healthy and environmentally friendly alternative to conventional commercial products, creating a consumption structure that aligns with a greener future," said Rimsky Buitrago General Manager at Bio Land. "We opened our doors to the Shades of Green Series to show how an ideological business can be done."
Bio Land is endorsed by suppliers who are fair to the environment, and are committed to the current and future health of the population.
"Bio Land holds firm to the belief that there's still much to be changed in the modern industry," said Robert Sikich, producer for the series. "I'm looking forward to educating audiences on the amazing things that Bio Land is doing in order to better the environment for future generations to come."
About Bio Land:
Bio Land is a company founded in 1982 upon strong ideological convictions. Since its start the company set a frame of action based on the utmost respect for the life of the planet and its inhabitants. This meant that the profitability of the operation should and will always be subordinate to the great ideals of the company. With these parameters and beyond any conventional business strategy, today Bio Land is a strong industry in the region with over 400 collaborators and many environmental projects.
For more information, visit: http://www.bio-land.org.
About Shades of Green:
Shades of Green is an award winning eco-friendly series strictly devoted to advancements in renewable energy and sustainable living. From biodiesel to wind power, Shades of Green gets up close and personal with the people and organizations dedicated to reducing our dependence on foreign oil and creating a sustainable planet.
For more information, visit: http://www.dmgproductions.org or call (866) 496-4065.
About DMG Productions:
The DMG production team consists of producers, cameramen and editors that have worked for CNN, TLC, Discovery, and other major news and cable networks. Our staff includes personnel specialized in various fields from agriculture to medicine, independent films to regional news. Our field producers utilize the core concepts from our producers who storyboard our programs, and work closely with experts in the field to develop the educational programs. This powerful force enables us to consistently produce commercial-free, educational programming that both viewers and networks depend on.
Media Contact:
Robert Sikich, Senior Producer / Shades of Green
(866) 496-4065 x 805 / robert(at)dmgproductions(dot)org