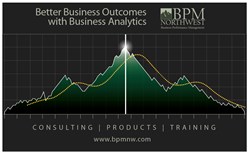 Problems cannot be solved with the same level of awareness that created them.
Portland, Oregon (PRWEB) October 17, 2013
BPM Northwest, a Business Analytics and Data Integration Consultancy and IBM Premier Business Partner announced Friday that it has earned IBM's Cognos TM1 Gold Accreditation. This accreditation positions BPM Northwest as the third company in the world to achieve this status, and the second in the United States. IBM awarded BPM Northwest this accreditation for their expertise in TM1 Corporate Performance Management solution delivery, and their advanced level of investment in product knowledge and employee certification.
IBM TM1 Gold Accreditation:
The IBM Cognos TM1 Gold Accreditation is part of IBM's Software Practice Accelerator program, launched in early 2013. This program is designed for IBM Business Partners to accelerate and enhance their ability to implement solutions, which leverage IBM software. BPM Northwest accomplished accreditation through proven client solution delivery and through the development of certified product expertise. BPM Northwest currently holds 21 TM1 Professional and Technical Certifications, an example of the depth of knowledge and dedication to optimizing TM1 technology to deliver Corporate Performance Management solutions.
"We are very proud of this achievement," said Bill Arntz, President and CEO of BPM Northwest. "It is our perspective that IBM's TM1 Corporate Performance Management (CPM) technology is the most effective approach available for aligning goals, metrics, people and technology to improve performance across an entire organization. The benefits TM1 solutions yield are tremendous and well documented. Our enthusiasm for the product is evident in our continuing investment in dedicated CPM consultants, our internal continuing education & certification focus, our delivery processes & procedures and our growing portfolio of Intellectual Property."
BPM Northwest will be available to discuss and demonstrate products and solutions at the EXPO Hall at IBM's Information On Demand 2013 in Las Vegas, November 3-7. Join us there to learn about what we do, and to better understand how we can help your organization to achieve the benefits of TM1.
About BPM Northwest:
BPM Northwest is a full-spectrum Business Analytics consultancy dedicated to providing the insight needed to move client's business initiatives forward.
BPM Northwest provides Data Integration & Data Architecture services, Business Intelligence solutions, Financial & Corporate Performance Management solutions, Statistical and Predictive Analytics solutions, Technical & Product Education, post-implementation support, and project financing. BPM Northwest is an IBM Premier Business Partner, and a Microsoft Partner. Additional information on BPM Northwest can be obtained by visiting http://www.bpmnw.com or calling 503-747-2614 Extension 7000.