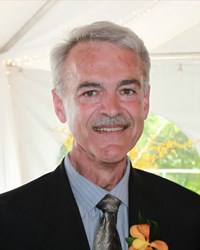 He often quoted his brother, Ron, "we've had a great run, now it's up to you and everyone else to keep it going."
Minneapolis, MN (PRWEB) October 17, 2013
The Outdoor GreatRoom Company™ founder and hearth industry veteran, Daniel C. Shimek, passed away October 11, 2013 in his Apple Valley, MN home at the age of 65. His enthusiasm for life and dedication to friends and family will be missed by all. Preceded in death by parents George and Laura Shimek; brother Ron Shimek. Survived by his loving wife Kay, children Jessica Shimek, Danielle (Ricky) Dhaliwal, Kent Shimek and Richelle Shimek; siblings Sue (Dick) DeFore, Rosemary Moore, Carol (Al) Lenhart, Steve (Lee Ann) Shimek and Gerald (Ann) Shimek.
In 1975, Dan and Ron Shimek had an inspiration for indoor wood and gas fireplaces that changed an industry and became the foundation of Heat & Glo® Fireplaces. Starting out small in a garage and building from the ground up to a 600 million dollar business, Dan and Ron became successful entrepreneurs and visionaries in the hearth industry. Brothers Steve and Gerry joined them soon after and in 1996, the Shimek brothers merged their company with Heatilator® to form Hearth & Home Technologies™ (HHT), the largest manufacturer of hearth products in North America, with Dan as president of the company. Together, Dan and Ron had over 30 patents.
In 2002 Shimek retired from HHT, but not long after started Fire Stone Home Products. Fire Stone originally started out as a business focused on grills and evolved into an outdoor living products company. The company changed its name in 2008 to The Outdoor GreatRoom Company™ (OGC) and focused on providing high end gas fire pits, outdoor fireplaces, grills, pergolas, furniture, and more. In 2012 OGC began a division for indoor electric fireplaces to provide products for every season of the year, called GreatCo™.
Shimek recently celebrated the 10-year anniversary of The Outdoor GreatRoom Company™. After ten years of hard work and countless challenges, 2013 had been one of growth and success. Shimek could be proud of the legacy he left behind. There is no doubt that Shimek's extraordinary vision and passion for the hearth industry will be a model for future entrepreneurs to come. His advancements and creativity in the hearth industry will not be forgotten. He often quoted his brother Ron, "we've had a great run, now it's up to you and everyone else to keep it going."
OGC will continue Dan's vision of providing innovative, quality products while treating everyone with dignity & respect. Please keep his family, friends, and colleagues in your thoughts and prayers as they mourn his passing.
We know that many of Dan's family and friends share his kind spirit and generosity. Instead of sending flowers or other gifts, we ask that you consider making a donation to one of the following organizations. Donations can be made in Dan's name through the following link: https://www.justgive.org/danshimek.