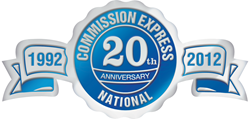 Fairfax, Virginia (PRWEB) October 17, 2013
Commission Express, the nation's largest real estate commission advance provider, announced today the opening of its newest office Commission Express Oklahoma & Arkansas, located at 8522 South 61st Street, Tulsa, OK 74133. "Our mission is simple," described franchisee Dennis McFeely, "to provide a reliable source for real estate agents and brokers to quickly and easily convert their commissions into cash in just two days. Further, our approach to the marketplace is unique because we underwrite the strength of the transaction, not the real estate agent or broker."
The widespread demand for the Commission Express service has been consistently demonstrated as we expand our offices throughout the country. "We are very excited to continue services to the real estate professionals of both Oklahoma and Arkansas, to provide them the same opportunity of local service that existing clientele currently enjoy," Dennis McFeely commented.
John Stedman, President and CEO of Commission Express said of Dennis McFeely, "Dennis has executive experience working within the real estate service industry as the owner of OBEO and is a graduate of Oklahoma State, with an MBA in Marketing. He will be a valuable asset to the real estate professionals within Oklahoma and Arkansas. By combining Dennis's background with the exceptional dynamics of the Oklahoma and Arkansas real estate market, you have an incredibly powerful platform for success." Dennis can be reached at 918-894-4100.
Commission Express National, Inc. is headquartered in Fairfax, Virginia and is recognized as the only franchised real estate commission advance service provider in the country.