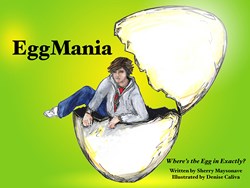 EggMania had to excel in each criterion to be considered best-in-class
Austin, Texas (PRWEB) October 17, 2013
EggMania: Where's the Egg in Exactly? has earned the prestigious Independent Book Publishers Association (IBPA) Benjamin Franklin Digital Award Silver Seal of Excellence. Written by Sherry Maysonave and illustrated by Denise Caliva, EggMania is an enhanced Apple iBook aimed at children ages 6-12.
Honored by IBPA in the enhanced eBook category, EggMania was recognized for its use of interactivity, animation, and audio. One IBPA judge noted: "I love the way the illustrations are brought to life with animation. The blinking eyes, flying birds, etc. make the book fun."
The IBPA Benjamin Franklin Digital Award recognizes innovation in eBook publishing. The IBPA judges evaluate submissions based on five criteria: "Content, Use of Platform and Technology, Innovation, Design, and Overall Reaction." To receive the Silver Honoree award and be promoted through the IBPA marketing platform, EggMania had to "excel in each criterion, rise above the normal user expectations, and deserve to be considered best-in-class."
EggMania is a multi-sensory, rhyming tale of adventure loaded with brainy enrichment. Acknowledging that children learn through play, EggMania was written as an eBook to educate and entertain kids growing up in today's digital world. It has also been awarded the Best Children's Illustrated eBook IPPY 2013 Bronze Medal, the Mom's Choice Award 2013 "Excellence Seal of Approval," and the kidSAFE seal.
Benjamin Franklin said, "Tell me and I forget. Teach me and I remember. Involve me and I learn." EggMania is a versatile learning tool in the areas of language development, creative writing, art, science, and speech. Its 190 pages feature stunning original art, advanced vocabulary with touch-sensitive definitions, and an educational game with over 150 mind-boggling, narrated "Fun Facts."
The next eBook in the ManiaTales series, EarMania: Where's the Ear in Regardless? will be released in 2014 by Empowerment Productions. EggMania is available for only $9.99 on the Apple iBookstore. View the iBook's entertaining video trailer and ebook educational tips for parents and educators at the ManiaTales website.
About IBPA, the Independent Book Publishers Association:
Founded in 1983, the Independent Book Publishers Association is the largest not-for-profit trade organization for publishers in the United States.