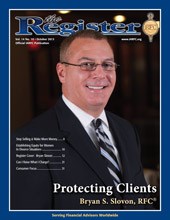 It is always challenging to communicate to clients the common financial misconceptions which can derail a lifetime of planning for retirees. -- Bryan Slovon, RFC
Middletown, OH (PRWEB) October 23, 2013
To be a true fiduciary for his clients, Bryan believes that transparency and objectivity can allow for unbiased planning and customized advice. "Our top priority is always to protect our client's best interest and provide both quantitative and qualitative success for all parties," he states. "When the general public understands what being a true fiduciary means, our approach and values become more appealing."
As the Founder and CEO of Stuart Financial Group of Greenbelt, Maryland, he has been in the estate planning and financial services industry since 1990. His first introduction into the retiree market was on a personal level as Bryan saw the need for long-term health care for his mother. "I protected her from the exorbitant healthcare costs associated with paying for long-term care; costs which would have otherwise decimated her life's savings." This close-to-home experience and extensive training with his mentor helped hone his skills and grow his business.
As an independent financial advisory firm, Bryan and his business partner, wife Lucy, have to compare all investment products objectively to determine the best fit for their clients. They take pride in protecting clients' funds for their intended use.
For his fellow IARFC members, Bryan thinks advisors should build relationships that are ongoing - so they have a business with long-term residual value, and market in different ways to keep business consistent. "The focus of agents or advisors should be a true planner, not just an investment person or an insurance products salesperson. The Association needs to be constantly changing and offering more training on effective marketing as well as business coaching and consulting."
IARFC Chairman and CEO, Ed Morrow emphasizes the fiduciary responsibility that the Stuart Financial Group holds dear when dealing with clients. "It is what draws a client to an advisor and develops a long term, lasting relationship," says Morrow. "Bryan obviously understands that role and is dedicated to the need for integrity and transparency."
Bryan's advice to new advisors? "Get around top producers and learn from them. Be comprehensive in your planning to clients. Solve their problems – don't just be another person offering them more investments without making sure you are really posing the right questions."
For more information on Bryan Slovon, RFC® and the Stuart Financial Group, go to their website http://www.stuartfg.com or visit the IARFC website for the entire article "Protecting Clients".