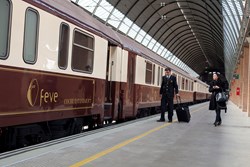 This must be the utlimate way in which to fully appreciate the culture and gastronomy of Spain, with its cosmopolitan history that should resonate with all of us.
(PRWEB UK) 22 October 2013
The Luxury Train Club presents the ultimate way to tour Spain: in the Al Andalus luxury train.
From Andalucia in the south via the Extremadura region and Madrid in central Spain to Aragon in the north-west and then across the crown of the country via Castile and León to Galicia - this is the first-ever luxury rail cruise of Span.
Each of these journeys can be booked separately.
Members of the Luxury Train Club benefit from a Member discount on all these journeys, as well as other advantages. These include Early Bird booking discounts from the Train, a thank-you gift for reservations and complimentary First Class travel within Spain to Seville and from León.
Membership is simple and free, just subscribe to the Club newsletter.
The route at a glance:
Andalucía Itinerary 16 June – 21 June
In Seville 22 June
Extremadura Itinerary, Sevilla – Madrid 23 June – 28 June
In Madrid 28 June – 4 July
Ibérico Itinerary, Madrid – Zaragoza 4 July – 9 July
Ribera del Duero & Rioja Wine Route 10 July - 13 July
Camino de Santiago Itinerary, León – León 15 July – 19 July
Andalucía Itinerary – visiting Seville, Cordoba, Granada, Ronda and Cadiz, thus taking in a wide sweep of Southern Spain. Andalucía today is the result of cultural influences that encompasses the Carthaginians, the Romans, the Byzantines and of course the Moors, all before the Christian Spanish era that has become modern Spain.
Extremadura Itinerary - Land Of Conquistadors. From Seville to Madrid, with off-train visits to this lesser-known region of Spain. Just north of Andalusia, south of Castile and east of Portugal, Extremadura was the birthplace of the conquistadors Cortés, Pizarro, de Orellana and de Balboa.
Ibérico Itinerary – Madrid to Zaragoza, with a full programme of visits to Pamplona, la Rioja wine tasting, Moorish and Roman Burgos, Ávila with thousand-year old city walls and many Romanesque and Gothic churches and Segovia, with much Roman architecture.
Camino de Santiago –
Prices start from EUR 11,800 per person (approx. USD 16,140 / GBP 9,990) for all these journeys together. Prices are available for one or more individual journeys.
The whole itinerary is all-inclusive, including First Class train travel to Seville to join the tour and First Class train travel from León after the tour, except for other transfers and hotels between the individual journeys.
Simon Pielow, Concierge at the Luxury Train Club says, "This must be the ultimate way in which to fully appreciate the culture and gastronomy of Spain, with its cosmopolitan history that should resonate with all of us."
ENDS
About the Luxury Train Club:
Contact: Simon Pielow, http://www.luxurytrainclub.com, info(at)luxurytrainclub(dot)com, +44 (0)1249 890 205
The Club gives the public rates on all listed trains, and then reduces them by applying a 'Member Special' 2.5% discount on every journey, as well as passing on any available offer from the train. Members booking more than 4 passengers earn 5% discount. The Club also shows appreciation for every booking with a thank-you gift.
The Club website has details of offers from trains around the world, including Early Bird Booking Offers, some specifically for Members.
MEMBER BENEFITS
Discounts:

2.5% discount off the price of any journey on the Club website;
Additional 2.5% for more than 4 passengers on one booking.;
Discounts are applied on final or full payment and are per suite;
Club discounts are in addition to offers from the train companies.
Thank You Gift – the Club values every booking made by a member, sending a thank-you gift, which varies from time to time, to the leading passenger for every reservation. Current gifts include one of the following:

Gift from Osprey London, something from their range of small leather goods;
Gift from Noble Isles, a travel item from their range of bath and body products;