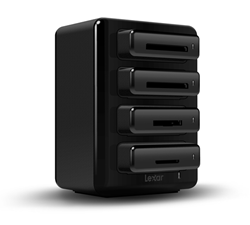 New York City, NY (PRWEB) October 23, 2013
Lexar has recently introduced the Professional Workflow Reader Solution, a system that revolves around a modular design for employing up to four different card readers at a single time to increase speed and efficiency when transferring large quantities of data from memory cards.
This system was developed in response to professional photographers and videographers who were without a capable solution for off-loading the hundreds of gigabytes of RAW image files and HD, 3D, and 4K video files in their memory cards. Where other card readers became tedious due to their single interface and susceptibility to slower transfer rates, the Professional Workflow Reader Solution improves on this, utilizing fast USB 3.0 performance and enabling simultaneous transfer for up to four memory cards of three different types: SDHC/SDXC UHS-1, UDMA 7 CompactFlash, and XQD. This solution provides faster transfer rates and a more seamless method for off-loading data more quickly.
The core of this system revolves around the Professional Workflow Hub HR1, which is a four-bay cabinet that provides a single interface capable of supporting up to four memory cards at once. The sleek form factor, coupled with the single USB 3.0 port, provides an intuitive design that enables simple functionality and minimal cable clutter with a wealth of performance that is tailored to a highly efficient digital workflow. Within the hub are four slots, or bays, that are each capable of accepting one of the currently three available card readers: SDHC/SDXC, CompactFlash, or XQD.
This unique design enables the user to fill the hub with any combination of media-type readers as desired, whether it is four CompactFlash readers, a mixture of all three card types, or just a single reader of any variety. Additionally, as new card types are introduced, the hub is future-proof and will adapt to changing technology in order to accept subsequently developed card readers.
B&H Photo Video is a qualified Lexar Authorized reseller with the most up-to-date Lexar product information, product pricing and individual promotional offers.
Connect with B&H Photo on the web. (Facebook, Twitter, Tumblr, Google+, Pinterest, Flickr, YouTube, B&H Insights & InDepth)
About B&H Photo Video
As the world's largest source of photography, video and audio equipment, B&H Photo-Video is known worldwide for their attentive, knowledgeable sales force, and excellent customer service, including fast, reliable shipping. Visitors to the website can access a variety of enlightening articles and educational videos. B&H has been satisfying customers worldwide for close to 40 years. http://www.bhphotovideo.com/