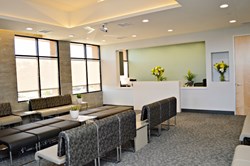 Aliso Viejo is a great community and deserves a great health partner.
(PRWEB) October 17, 2013
Marque Urgent Care is pleased to announce that their new state-of-the art clinic in Aliso Viejo is now open. Marque's latest location in the Aliso Viejo Town Center is conveniently located off of the 73 freeway. "Although it is exciting to expand to new locations, our primary focus still remains to provide excellence within each clinic. We constantly are striving to deliver the best overall quality care and service to every single patient" Dr. Nathan Kiskila of Marque states. "We are looking forward to building a long term relationship with the community and getting involved with Aliso Viejo's local events and organizations."
As indicative of all Marque clinics, the newest location features the latest technology and highly regarded physicians. Marque Urgent Care provides walk-in care and family wellness in addition to an advanced occupational medicine program. They offer quality medical services for non-emergent health issues that require immediate attention; thereby filling in the gap between an emergency room and primary care physicians. Each clinic has an on-site lab and digital X-ray, physicals and injury treatment, vaccinations and immunizations, on-site medications, and occupational health services. Marque accepts all major PPOs and patients can reserve a place in line online using the ZipPass feature. Patients also have the option to schedule a reservation for a future visit for added convenience. Marque Urgent Care has extended hours and is open on most major holidays.
The clinic's values are embedded in the belief that the each patient is their most valuable asset. "Aliso Viejo is a great community and deserves a great health partner. Our mission is to invest in the wellness and fabric of the communities we serve- so expect to see us at your favorite events and local programs," states Pierre Bergougnan, CEO of Marque Urgent Care. Marque Urgent Care looks forward to a long-standing relationship with the terrific community of Aliso Viejo and the surrounding areas. For more information, please visit http://www.MarqueUrgentCare.com.