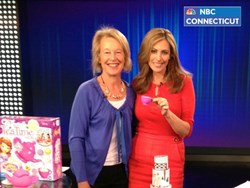 I just love to see what [toys] you bring, because it's so different every time and you do not disappoint. - NBC-CT's Kerri Lee Mayland
Southport, CT (PRWEB) October 22, 2013
Play On Words LLC, led by highly respected speech language pathologist Sherry Artemenko, announces 2013's Fall PAL (Play Advances Language) Winners. This recognition is the toy industry's only program directed by a credentialed speech-language expert recognizing the language learning edge in exceptional toys, games and books. Distinguished by unique design, quality and character, these PAL winners can generate rich play that advances language. Sherry's 35 years of child development experience with over 15,000 hours working with kids empower her PAL selections, popular blog, private practice and media appearances.
http://playonwords.com/in_the_media/
"I'm excited to see companies integrating language learning in their products to stretch students to collaboratively solve problems and work toward solutions whether creating a project with circuit modules or cooperating on a preschool game to find hidden pirate treasure. Science tools designed for girls 8 years and up include an 'activity journal' to record observations and comparisons or create a song or poem describing the moon, building cognitive and language skills while requiring writing. Since PAL winners exhibit intrinsic learning qualities, kids enjoy great play, unaware they're engaged in practicing communication skills."
FALL 2013 PAL AWARD WINNERS
LISTED BY LANGUAGE LEARNING CATEGORY
EARLY DEVELOPMENT: Sherry's daily experience in pediatric speech therapy gives her an eye for the best products to build attention, vocabulary, and concepts through play, preparing children for their first sounds, words and sentences. From listening and learning patterns through a musical gator, pulling a shape-sorting snail or exploring a magic forest of friends in a soft fold-out book, kids learn essential language skills.

Busy Bead Maze - Mermaid Adventure by Alex Toys
Grow-With-Me Activity Gym and Ball Pit by Infantino
Linda Lamb Pull Toy by Steiff
Magic Forest Friends by HABA
Mighty Mini Band by Hape
Musical Gator by Alex Toys
Rolling Busy Bus by Alex Toys
Sensory Pals by Infantino
Touch and Feel Critter Ball Set by Infantino
Trampili Elephant Music by Steiff
Walk-Along-Snail by Hape
Wonder Whale Kicks and Giggles Activity Gym by Infantino
LANGUAGE STRUCTURE: These outstanding products can build language structure, often teaching vocabulary, concepts or grammar while delivering fun. Problem solving, predicting, collaborating, and negotiating while creating working electrical circuits or journaling the dynamics of the moon over time, all strengthen communication.
Animal Patterns Puzzle by BigJigs
Base Kit by littleBits
Disney Eye Found It! Hidden Picture Game by Wonder Forge
Disney Jake and the Neverland Pirates Shipwreck Beach Treasure Hunt Game by Wonder Forge
Disney Sofia the First Royal Prep Academy Game by Wonder Forge
Disney Sofia the First Magical Tea Time Game by Wonder Forge
Doodle Jump by Ravensburger
Freeze Up! By Educational Insights
Justice League Axis of Villains Strategy Game by Wonder Forge
Nancy B's Science Club Moonscope and Star Gazer's Activity Journal by Educational Insights
Nancy B's Science Club Microscope and Activity Journal by Educational Insights
Nancy B's Science Club AquaScope and Underwater Wonders Activity Journal by Educational Insights
Ooga Booga by Blue Orange Games
Rory's Story Cubes Voyages by Gamewright
Stuffed Full of Fun Small Sticker Tubs by PomTree
That's It! by Gamewright
Spot It! Basic English by Blue Orange Games
What's the Racket? by HABA
(PRE)READING: Learning the parts of a well-written story in a clever adaptation of a famous fairy tale or meeting the capital letters through poems designed to help remember letter forms, children pick up essential skills to promote reading and writing.
Alphabet Anatomy - Meet The Capital Letters by Linda Ann Jones
Jumbo Bananagrams by Bananagrams
Little Red Writing by Joan Holub and Melissa Sweet
Peppa Pig and the Busy Day at School by Candlewick Press
STORY-TELLING/ PRETEND PLAY: Whether preparing dinner in a dollhouse with micro-light fixtures, coupling magnetized cars to animate a train, applying bandaids to make a patient "all better," or picnicking in a gingerbread cottage, children enter the world of pretend, creating their own stories with a variety of flexible props to guide their imagination. Oral story-telling precedes writing as kids learn the steps to create a good narrative.
3D Dinoland by Alex Toys
Disney Doc McStuffins All Better! Game by Wonder Forge
Doc McStuffins Get Better Checkup Center by Just Play
Fire Station by Hape
Gingerbread Cottage Playhouse by Win Green
Little Baby Trampili Elephant by Steiff
Little Floppy Sissi Piglet by Steiff
Mocky Hippopotomus by Steiff
Nanoblock Under the Sea by Ohio Art
Robo Creatures Assortment by K'Nex
Rural Road and Rail Set by Bigjigs Toys
Smaland Doll's House by Lundby
SmartMax Tommy Train by Smart Toys and Games, Inc.
Take Along Modern Doll House by Playmobil
Tickey Toc Talking Tallulah/Tickety Toc Talking Tommy by Just Play
Tinkertoy Pink Building Set by K'Nex
SOCIAL LANGUAGE: Pairing closely with pretend play, social language blossoms when children play with toys that encourage extended social interactions. Working cooperatively to fell the teenage mutant ninja turtles balancing in a game, wearing a t-shirt that carries a save the planet pet in the pocket, or assembling a beautiful puzzle with grandma promotes group interaction.
Bugs In The Kitchen by Ravensburger
Dressing Girl Puzzle by BigJigs Toys
Nickelodeon Teenage Mutant Ninja Turtles Flying Attack Skill and Action Battle Game by Wonder Forge
NYC Christmas Puzzle by Ravensburger
Planet Buddeez Tees and Hoodies by Planet Buddeez LLC
Santa's Workshop Puzzle by Ravensburger
Skunk Bingo by Gamewright
Walkie Talkies by Backyard Safari
To see all Playonwords PAL Award winners, go to:
http://playonwords.com/award/