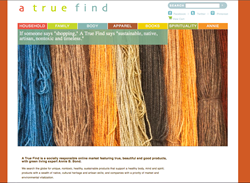 A site where users can shop for all of Annie's trusted and favorite products, A True Find is the culmination of Annie's work and knowledge.
Rhinebeck, NY (PRWEB) October 17, 2013
Annie B. Bond has been a trusted resource for green product recommendations for two decades. "Body & Soul" called her "the foremost expert on green living," for this reason. Now she brings her expertise to a new site advocating products that are nontoxic, healthy, and sustainable: http://www.atruefind.com.
How did Annie become such an expert? She is now living a normal life, but that wasn't always the case. After a chemical poisoning in 1980, Annie had to learn the ins and outs of nontoxic living just to survive in the modern world. She is now the best-selling author of 5 novels, as well as thousands of blogs that have reached millions of readers. Annie's decades of work have culminated in her newest project, A True Find. At A True Find, shoppers can find hundreds of products approved by Annie for healthy, green, global, and ethical living. This online shop is filled with Annie's "true finds" – the products that helped her survive when the world made her sick.
Sometimes, in the greatest pain is the greatest gift. For Annie, her story began with a gas leak. In 1980, she was waitressing in New Haven when people started dropping like flies: 80 people ended up in the hospital. Soon after, her apartment building was exterminated with a product that has since been taken off the market because it is so neurotoxic. The combination of the two left Annie so sick that she spent three months misdiagnosed in a hospital. She was finally correctly diagnosed with Classic Organophosphate Pesticide Poisoning and Multiple Chemical Sensitivity by one of the first environmental medicine doctors in the world.
However, her life, while saved, was not instantaneously better. Annie and her husband moved 10 times in 4 years, trying to find a safe haven for Annie far enough from pesticide drift. Annie had to learn how to survive without chemicals – how to make her own cleaning products, how to find safe body products, how to seal in toxic chemicals in carpets, etc. Finally, in 1988, they found a home remote enough that Annie would be safe, and she got healthy enough to have her daughter, Lily.
A new mother who couldn't have a normal career because leaving the house made her sick, Annie took over a wall in the house and covered it with career ideas written on sticky notes. Everything from a home weaving shop to selling baked goods crossed her mind, but the idea that Annie kept returning to was the very thing that kept her trapped in the house: green living. It was from this building block that she wrote her first book, Clean & Green, which was published in 1990. Full of budget-conscious home recipes, the book was a diary of sorts of all of the ways that Annie had found to clean, survive, and thrive despite her chemical sensitivity.
A runaway best seller, Clean & Green was the start of an unexpected career for Annie. She has since been named an expert in green living and has been endorsed by Deepak Chopra ("Follow her advice and both you and our planet will be healthier").
Annie's mission has always been to help people who needed/wanted to find green solutions and didn't know where to start. A few years ago, Annie's niece called to ask if she knew of an alternative to DEET mosquito spray; Annie had a product she had been using for years that she swore by. It was from that phone call that A True Find was born: why not provide a space where people could find all of the products she used and recommended, as well as ask for her green living advice?
A site where users can shop for all of Annie's trusted and favorite products, http://www.atruefind.com is the culmination of Annie's work and knowledge. Annie leads a normal life now because she has created a chemical-free, healthy home. Since she has been healthy enough to travel, she and her daughter Lily (now 24) have also garnered an appreciation for global culture. After a trip to Southeast Asia, they were inspired to expand A True Find to include heritage crafts by global artisans. Annie and Lily, who was probably the greenest child in America, bring A True Find to the world with open arms: a testament to a lifetime of cultivating the very greenest products and of appreciating global artisans throughout the world.
You can watch an interview with Annie here.
Annie and Lily welcome you to explore http://www.atruefind.com to see the beautiful online marketplace they have created. Please contact Lily Bond (lily(at)atruefind(dot)com) for media inquiries.