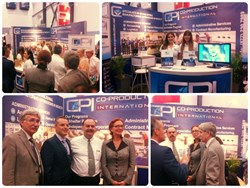 The geographic condition of Baja California with the United States, allows for a certain advantage; and it's this proximity that attracts investors in this sector, the State.
Tijuana, Baja California (PRWEB) October 17, 2013
The high enthusiasm for the region's aerospace and defense industry experiencing major boom was evident in the networking businesses that attended, and was only complemented by the most recently released industry statistics of the highly capable regional cluster. Also present were executives from major A+D companies from both the United States and Mexico; along with a strong showing of representatives of Baja Californian business organizations, state economic and commerce departments, and city officials serving economic and trade development.
"For decades the aerospace industry has continued to strengthen," commented the Tijuana Mayor Carlos Bustamante at the Forum. Bustamante also noted that, "The geographic condition of Baja California with the United States, allows for a certain advantage; and it's this proximity that attracts investors in this sector, the State." Tijuana reported $5.02 billion USD in aerospace and defense exports in 2012, solidifying its well-deserved 30% share of the national total, in addition to providing over 50% of A+D industry-specific workface in the country as a whole.
There are approximately 31 aerospace and defense companies in Tijuana, and 26 in Mexicali, the capital of Baja California. "It is a complement what Tijuana and Mexicali have; we are the number one state in regards to the businesses and the number of workers in the aerospace industry," said the Mayor of Mexicali, Francisco Perez Tejada.
The dramatic increase of direct foreign investment (DFI) in the Baja California aerospace and defense industries was also a major highlight at this year's Forum. Reporting $175 million USD to date for 2013, with another $250 million USD in the pipeline, the FDI for the region may very well be more than double than the $135 million USD reported in 2012.
Also amongst the attendees were representatives from local higher education institutions who's continued commitment to offering degrees of study in aerospace, aeronautical, electrical, and mechanical engineering are responsible for providing the highly-skilled graduates bound for work in the aerospace and defense sectors. It is Mexico's highly-skilled, low cost workforce that is a major attraction for companies seeking to expand in the region.
The San Diego-based administrative and shelter services provider, Co-Production International, hosted an all-day industry tour the day before the Forum. It was attended by US and international firms exploring expansion in Mexico and seeking a deeper understanding of the regions capabilities. Industry tour participants were given tours of facilities of major aerospace manufacturing companies already operating in the region, beginning with one of Tijuana's mainstays, Eaton Aerospace and followed by the specialized electrical connector manufacturers, Smith Interconnect and the recently established Conesys. The final facility of the tour took place at Barry Avenue Plating (BAP Aerospace de Mexico), the specialized metal finishing and processing manufacturer who established operations in early 2013. Of note, BAP Aerospace de Mexico was the first company in Baja California to receive the internationally-recognized aerospace accreditation, Nadcap (National Aerospace & Defense Contractors Accreditation Program), for Chemical Processing (CP) and Aerospace Quality Standards (AQS).
CPI additionally hosted SAFRAN Mexico President Daniel Parfeit during the two days of Forum activities. SAFRAN Mexico is a part of the Paris-headquartered international aerospace & defense manufacturing powerhouse, the SAFRAN Group. With the SAFRAN Group reporting $13.6 billion Euros in sales for 2012, their presence at this year's forum further reiterates the appeal of nearshore operations in Mexico for both US and international companies alike. Parfeit commented how evident Baja California's contribution was to Mexico's aerospace industry, noting that Baja was sure to play a role in SAFRAN's future in Mexico.
Overall, the participants in CPI's Industry Tour and the attendees of the 4th Annual Baja California Aerospace Forum were exposed to not only the highly capable and booming aerospace and defense industries in the region. Baja California and especially the Northern Border region have graduated from infrastructure planning supportive activities to showcasing the daily success stories for those companies that choose to expand their operations to nearshore Mexico.
Co-Production International is an administrative services provider located in San Diego, CA, offering successful business expansion solutions, shelter program, day-to-day administrative services, site selection, and the complete set-up of your manufacturing operation in Mexico. For more information, or if you are interested in a cost analysis that will demonstrate how this expansion will impact your bottom-line profits and sustain your competitive advantage, visit http://www.co-production.net or call (858) 427–8514.
For the full overview of the aerospace and defense industries in Mexico, please see CPI's "Aerospace & Defense Manufacturing in Baja California, Mexico" 2013 White Paper.