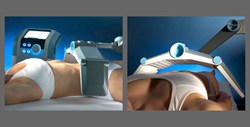 After only three treatments, my abdomen is firmer and tighter. My same clothes feel larger and where they were tight before, they now feel loose. -- Pilot Patient E.B.
San Diego, CA (PRWEB) October 18, 2013
Vanquish by BTL Aesthetics is a revolutionary radio frequency technology that is FDA cleared for deep tissue heating. With four 30 minute weekly sessions, Vanquish is proving to be a safe and reliable method for fat reduction. This exciting new treatment has been featured in several magazines such as; Allure, New Beauty and Harper's Bazaar. 
 
Dr. Moradi and his body contouring staff were given early access to Vanquish as part of a special pilot program. Only ten practices across the United States were given the opportunity to participate in this program. In keeping with Dr. Moradi's policy of assuring the effectiveness of a technology prior to marketing, a limited number of our trusted patients were enrolled for treatment with Vanquish. 
 
Vanquish has been performed at Moradi M.D. for three months and the initial results have surpassed prior expectations. All of the initial patients were enrolled for the purpose of fat reduction in the areas of abdomen and flanks. The first patient started to see noticeable improvement after her third treatment, with a significant decrease in her pants size and a surprising additional benefit; tightening of her skin:
 
"After only three treatments, my abdomen is firmer and tighter. My same clothes feel larger and where they were tight before, they now feel loose. Vanquish is truly a remarkable treatment for anyone who wants to tighten and firm unwanted, child-bearing midsection fat on their body." -- Pilot program patient E.B.
 
Just a few days later another patient reported reduction of fat and an even more impressive skin tightening result:
 
"I'd like to share how impressed I am with the results from my Vanquish treatments. My first Vanquish treatment was in August. It was so easy to have done. For the treatment they have you lay on a comfortable table and place a warm panel over your stomach. Suprisingly, I found it very relaxing. By my third treatment I saw results. My upper abdomen (rib cage area) is much tighter and smaller. I have also seen major result in my love handles. They are completely gone! I can't wait for the final results, as its been less than three months. Magda and Dr. Moradi explained it generally takes three months see the results. No matter how hard I tried in the past, I could not get rid of this stubborn fat. I have run on a daily basis for 27 years and I do Bikram yoga. Now the fat is diminished, while nothing has changed in my diet or exercise...It's all Vanquish! All my friends think I have lost weight and I'm telling them it's Vanquish." -- Pilot program patient L.N.
 
Skin firmness and reduction of cellulite is now being seen on the thighs. This patient insisted on being in our pilot program, even though we could not assure her of significant reduction.
 
"I have been a patient at Dr. Moradi's office for a little over a year and I would not trust my aesthetic needs to anyone else. When asked for Dr. Moradi's advice on skin tightening and fat reduction on the body he told me to save my money and wait until Vanquish came out. Vanquish has finally arrived and I have completed six treatments on my thigh and upper knee area. It was well worth the wait. It is a short treatment that is painless and I was able to return to my normal routine. After six weeks, the skin on my thighs is tighter and more toned. I have lost two inches overall and am so thrilled with the appearance of my thighs. The stubborn areas on my thighs that cannot be spot reduced are toned and much visibly tighter." -- Pilot program patient L.G.
Vanquish is a no contact radio frequency device. During treatment a large, curved panel is placed across the body area to be treated. Treatment areas are the abdomen, flanks (love handles), or thighs. The patient lies on a comfortable table and feels the warmth on the treatment site. Four separate weekly sessions are recommended, although the treatment is extended to six sessions on the pilot patient group. There is no down-time or pain involved and one may return to their usual activity immediately.
About Moradi M.D. Moradi M.D. consistently offers patients professional and personalized care. The staff takes pride in helping patients look their best through affordable cosmetic enhancements and skin rejuvenations. Moradi M.D. proudly offers a large array of aesthetic services including facial plastic surgery, dermal fillers and wrinkle reducers, laser treatments, body contouring, fat reduction, clinical research and medical grade skin care services and products.
Dr. Amir Moradi, the founder of Moradi M.D., is board certified in Facial Plastics and Reconstructive Surgery. He has practiced in San Diego County since 2000 and hosts an esteemed center for training at his Vista office that serves to provide instruction and continuing education to other providers in the field of aesthetic medicine.
Media Contact: Lita Doody lita(at)moradimd(dot)com