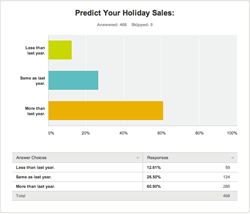 Grand Haven, MI (PRWEB) October 18, 2013
A survey by WhizBang! Training of 468 independent retail store owners across the US and Canada reveals that these businesses expect sales to be up this year over last year. WhizBang! Training provides retail sales training and advice to independent store owners. The survey results show that 60.1% of survey respondents believe that this year's holiday sales will be "more than last year."
"Sales are up," says Nancy Neville of Monterey California who owns Royal Splendor a women's clothing boutique. "Our customers are happy, spending, and just loving all the new items we are advertising. The key is watching the price points. Everything under $25.00 is flying out the door."
Only 12.6 % of the 468 stores owners surveyed expect sales to be less than last year and 26.5 % expect sales to be the same. Those expecting sales to be the same or lower blame the economy and the US government shutdown. "I think that the economy is hurting us and the government shut down is only making it all worse. Our customers don't spend the amount of money they used to," reports Laura Hoffman, who runs a greeting card and stationary store in Northampton, MA.
Even though over 60% of store owners are expecting an increase in sales, most won't be hiring more seasonal employees compared to last year. Only 15.2% plan to hire more seasonal workers than last year while 73.3% of stores expect to hire the same amount of seasonal staff and 11.5% expect to hire fewer employees. "A well trained staff can do more than just handle an increase of customers and sales," says Bob Negen, founder of WhizBang! Training and a retail expert who speaks and writes on the topic of independent retail store success. "A well trained staff can actually drive big increases in sales."
Negen says too many local store owners just sit in their place of business and wait for customers and sales. "Even in a slow economy, creative Christmas promotion ideas and a well trained staff can increase foot traffic and stores sales," advises Negen.
About Bob Negen and WhizBang! Training
Bob Negen is the founder of Whizbang! Training, a company that gives retail store owners the ideas and inspiration they need to run successful a business. He was a retail store owner for over twenty years and is now a speaker, author, and retail expert (WhizbangTraining.com)