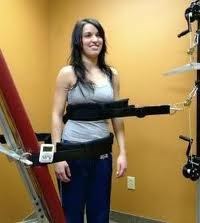 Ottawa, ON (PRWEB) October 18, 2013
Individuals that suffer from poor posture, neck and back pain, injuries, and even headaches can find relief in chiropractic care led by Dr. James Casserly. Dr. Casserly has perfected battle-tested techniques and put together a complete program that has led to proven results, helping hundreds of needlessly suffering patients.
"TEAL Wellness is thrilled to provide customers with Chiropractic services," says Chiropractor Dr. James Casserly. "A Chiropractor can not only help making your back/spine health and strong but can also cure many different headaches."
True health is how well someone's nervous system is functioning with the workings of their body. The nervous system carries vital communications between an individual's brain and body, thus affecting someone's posture and general well-being. That's why vertebral subluxations are so serious. Compromised brain-to-body and body-to-brain communication can be the underlying cause of a variety of health problems.
Nerve compromise can result from postural distortions that are easily revealed with a few simple tests. TEAL simplifies them so an individual can conduct them at home with a minimal amount of time, equipment and training.
Prior booking is recommended. Chiropractic care is covered by most medical insurance providers. TEAL also accepts WSIB and Workman's Compensation Cases. For more information about the new chiropractic care services, please visit: http://tealwellness.com/chiropractic.html.
About TEAL:
Established in 1998, TEAL is a Canada based holistic spa and wellness clinic. TEAL offers a wide variety of services, each one personalized to a customer's specific needs. Specializing in everything from herbal medicine to laser treatments, the wellness clinic offers health and beauty solutions for anyone who walks through their doors. TEAL strives to promote self-confidence and inner beauty for all of their customers. For more information please go to tealwellness.com or visit 570 Montreal Road, Ottawa ON or call (613) 745-3418.