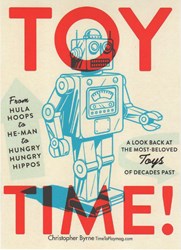 It's page after page of fun! A great holiday gift!
(PRWEB) October 17, 2013
Toy Time!, a new release from Three Rivers Press (an imprint of Random House), features fun facts and descriptions of classic toys, as well beautiful archival and new photographs. Author Christopher Byrne (aka "The Toy Guy®) curated the collection of toys featured in the book with the help of social media and crowd sourcing through TimetoPlayMag.com's more than 183,000 Facebook fans and more than 12,000 Twitter followers.
Among the fun facts, such as those spotlighted in Parade Magazine's October 13 issue, are:

Gumby wasn't originally meant as a toy: It was created as a character for an animated jazz video.
There are more LEGO mini-figures in existence than there are people on the planet?
Play-Doh was originally intended as a wallpaper cleaner.
Twister almost didn't happen…until Johnny Carson played Eva Gabor on The Tonight Show.
There are 43 quintillion possible configurations of the Rubik's Cube and only one is correct.
The Johnny Reb Cannon has the distinction of being named one of the "10 Most Dangerous Toys of All Time."
In the world of Strawberry Shortcake, Raspberry Tart became Raspberry Torte because parents (and toymakers) were afraid she'd get "a reputation."
Byrne invites readers to let the book transport them back to fun-filled days of childhood: "With Toy Time! I try to reunite readers with all the classic toys that engaged their imaginations and sparked their laughter. No matter when you grew up, or what types of play you remember most, Toy Time! will take you on a journey of rediscovery."
Byrne is available to address such topics as:
What is it about toys that create such indelible and powerful memories? Why is it so much more than simple nostalgia?
What makes these toys distinct—and so representative of their eras?
How was the toy industry—and youth culture—as we know it created in the wake of World War II, and how did they usher in our contemporary understanding of childhood?
Are these toys worth anything today?
Are toys still a unifying cultural phenomenon? Can they be?
Title: Toy Time!: From Hula Hoops to He-Man to Hungry Hungry Hippos: A Look Back at the Most- Beloved Toys of Decades Past
Author: Christopher Byrne
Paperback: 240 pages
Publisher: Three Rivers Press (October 8, 2013)
Language: English
ISBN-10: 0385349122
ISBN-13: 978-0385349123
Price: $15.99