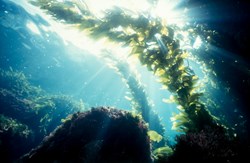 San Francisco, CA (PRWEB) October 19, 2013
Seaweed contains vitamins, minerals, and amino acids that are essential in maintaining healthy skin. The unique ingredients in green seaweed is well known to help slow the aging process while protecting it from the harsh environment. Zion Health is proud to announce Adama Seaweed ClayMask is now available for online shoppers at National vitamin retailer; iHerb, Seaweed ClayMask contains essential vitamins include: A1, B1, B2, B6, B12, C, E, K, pantothenic acid, folic acid, and niacin. Zion Health's Seaweed ClayMask is available in organic health markets in the U.S and Canada and online at IHerb.com.
Sea kelp is a group of brown-green seaweed species that can help detoxify the body. According to Peter Bennett, a naturopath and author of "The Purification Plan," kelp has acids that can bind toxins and draw out impurities in the skin when combined with heat. Kelp is also packed with skin nutrients like omega-3 essential fatty acids and polyphenols.
Adama Minerals Seaweed ClayMask uses the combination of sea kelp extracts and the earthen clay calcium montmorillonite for deep cleansing, tightening pores and moisturizing skin. According to natural health advocate Luella May, healing clays like calcium montmorillonite contain a negative charge that attract bacteria and toxins and can be effective for treating various skin conditions, including acne. Adama Minerals Seaweed ClayMask also uses herbs like German chamomile, sage, thyme to help reduce redness and skin irritation.
Zion Health is proud to announce that the online vitamins store http://www.iHerb.com will now carry Adama Seaweed ClayMask. Since 1996, iHerb has been providing one of the largest selections of nutritional supplements and natural products worldwide. Initially named for its informational support of the herb St. John's Wort, iHerb now has more than 35,000 high-quality, affordable products available from more than 1000 well-known, respected brand manufacturers.
Zion Health's Seaweed ClayMask and organic, natural ancient clay products are now available online at http://www.iHerb.com, and at health food markets and co-ops throughout the United States and Canada. Zion Health provides its consumers with pure skin and body care products that are 100% vegan, free of parabens and aluminum and formulated using certified organic ingredients whenever possible.