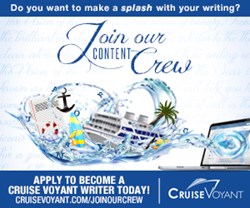 "Cruise Voyant's Content Crew will help keep our consumers informed by providing them with helpful advice and tips," said Natalya Jones, a Cruise Voyant writer.
Fort Lauderdale, FL (PRWEB) October 16, 2013
CruiseVoyant.com has begun their search for travel bloggers and avid cruisers to join their established team of cruise experts. With the launch of their new travel blog, Cruise Voyant wanted to showcase real cruisers as well as industry experts and their advice on cruising. Contributors to the blog will be financially compensated as well as receiving the title of "Content Crew Member". Other perks include access to special cruise deals, insider travel information and a graphic badge that lets readers know they are a Cruise Voyant featured blogger. Consumers with cruise experience will have the opportunity to apply to become a paid Content Crew writer and contribute cruise advice to be featured on the Cruise Voyant Blog.
"Cruise Voyant's Content Crew will help keep our consumers informed by providing them with helpful advice and tips," Natalya Jones, a Cruise Voyant writer, said.
Cruise Voyant recognized the desire of consumers, especially those new to cruising, to have access to information before they book a cruise. The Content Crew program intends to connect real cruise experts with consumers seeking reliable cruise advice and insider information. The blog covers a wide range of cruise topics that focuses on common questions that cruisers often ask and information on themed cruises such as family friendly cruises and adventure cruising.
Cruise fans chosen to join the Cruise Voyant Content Crew will contribute articles and blog posts that will be featured in one or more of the 12 interest categories on the Cruise Voyant blog: Adventure, Art and History, Beach, Entertainment, Family Friendly, Food and Wine, Golf, Nature, Romance, Shopping, Singles and Spa. Consumers that visit the Cruise Voyant blog will be able to easily select cruise advice in a category that interests them by choosing one of the 12 blog categories.
The requirements of becoming a Cruise Voyant Content Crew member include having a passion for all things cruise, contributing engaging content, photos and videos to the Cruise Voyant blog and providing an opinion on cruises, destinations, ports and more.
Benefits of being chosen to join the Cruise Voyant Content Crew include payment for submitted content, becoming a featured contributor on Cruise Voyant and exclusive Content Crew discounts on cruises booked with Cruise Voyant. Applicants will be required to provide their contact information as well as a writing sample about a cruise experience to be considered for the position.
Experienced cruisers that are excited to share their cruise advice are invited to apply to be a Content Crew member for Cruise Voyant through our Facebook page.
About Cruise Voyant
Cruise Voyant is a Fort Lauderdale based cruise agency that is revolutionizing the cruise booking process. Cruise Voyant solves many of today's most difficult booking issues by allowing visitors to view a historic look at how pricing has changed on a particular ship and sail date. Cruise Voyant also offers interactive cruise itinerary maps, and it provides tens of thousands of photos of ships and destinations worldwide. Cruise Voyant helps consumers easily find their dream vacation by empowering them with online advice and insights that will help them easily book and manage their vacation plans.