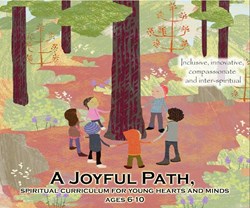 (PRWEB) October 17, 2013
A growing number of people are identifying themselves as "spiritual but not religious". They are searching for language to talk deeply with the children in their lives about spiritual things without dogma or absolutes, but rather in a way that is inclusive, intelligent, pluralistic and expansive.
ProgressiveChristianity.org has recently published Year Two of their Inner Wisdom Series: A Joyful Path. Now available for ages 6-10. This progressive Christian spiritual curriculum is full of fun, inter-spiritual lessons which encourage children to experience the sacredness of all life, learn interdependence, compassion and self awareness. As in Year One, the lessons are based on the core teachings of Jesus.
This curriculum is truly progressive and focused on connecting children with their own inner wisdom – creating happy space for children to learn and grow on their own faith journey.
A Joyful Path Year Two has 38 lessons with full color artwork. There is an original story in each lesson, as well as a contemplative and introductory section for the teacher. Fun, feeling based activities get kids moving, creating and laughing, and there's tips to bring music and nature into each lesson. Using the Bible as well as other wisdom stories, A Joyful Path helps children learn how to follow the path of Jesus in today's world.
Delightful, real-life situations give children a chance to think through ethical issues and decide for themselves the type of world they want to create around them. A Joyful Path is mindfully written, with a balance for all teaching and learning styles so that teachers can tailor each lesson for their unique class or group of children. It is adaptable for all seekers and is great for families, classrooms, intentional communities and Sunday Schools.
Each Year of A Joyful Path can stand on its own, so there is no need to purchase them in order. Year Two creates an entire year of meaningful spiritual lessons, created to encourage community, acceptance, and bravery.
Parents, educators, churches, and communities will all benefit from using a children's curriculum that is both spiritually progressive and relevant in today's world. For more information, or to purchase A Joyful Path, go to ProgressiveChristianity.org.