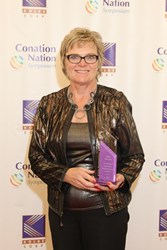 Phoenix, AZ (PRWEB) October 17, 2013
Performance Strategies Group, Inc. (PSG) founder and President Mari Martin was recently chosen the winner of the Kolbe Professional Award for Individual Leadership in Building Conative Excellence by a vote of her peers.
Martin's organization focuses on identifying individual strengths and talents, and accelerates the communication, collaboration and teambuilding process within companies, non-profit organizations and ministry teams. She received the award at Kolbe Corp's Conation Nation Symposium in Tempe, Ariz., on Oct. 11.
For more than 20 years, Martin has used Kolbe assessment tools to help numerous organizations improve overall efficiency and to help individuals enhance their personal satisfaction.
Martin is involved extensively in the Holland, Mich., community where she has lived since 1983. She has served as the chairman of the board of the Holland Area Chamber of Commerce, as president of the Rotary Club of Holland, and as a board member of Good Samaritan Ministries.
"Our mission is to help people understand conation and use that understanding to improve their lives in the ways they care about most," said David Kolbe, CEO of Kolbe Corp. "The Conative Excellence Awards recognize and celebrate people already taking this concept and making it a reality. Mari Martin is an outstanding example of this effort."
Conation is the faculty of the brain that drives individuals to take purposeful action according to their instincts. Conative abilities are the natural, inherent and unchanging talents that, when acted on, lead to success and well-being for individuals using creative energy to solve problems.
Conation Nation Symposium was attended by 150 individuals and featured keynote speakers such as General William Scott Wallace (Ret), top attorney David Tierney, Esq., and conation expert and best-selling author Kathy Kolbe.
About Kolbe Corp
For more than 35 years, Kolbe Corp has helped people identify their instinctive talents and use their innate abilities to succeed. Kolbe's online assessment, the Kolbe A™ Index, is used by individuals and corporations alike. Clients throughout the United States and in 34 other countries rely on Kolbe's products and services to hire talent, increase productivity and build effective teams.