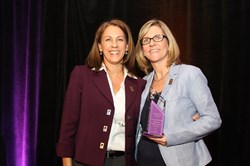 Phoenix, AZ (PRWEB) October 17, 2013
Entrepreneurial advice firm Strategic Coach® has been named the winner of the Kolbe Enterprise Award for successfully using the Kolbe System™ to achieve success in major projects that can be demonstrated with objective results.
Using a natural affinity with Kolbe Corp's offerings, Strategic Coach now incorporates a full range of Kolbe's products and technologies into their coaching programs for entrepreneurs as well as services for spouses and youth.
Conative abilities are the natural, inherent and unchanging strengths that, when acted on, lead to success and well-being for individuals using creative energy to solve problems. Conation is the faculty of the brain that drives individuals to take purposeful action.
For more than 20 years, Strategic Coach has offered a range of workshops and products that have helped thousands of successful entrepreneurs find balance between their work and private lives while dramatically increasing their income. The award was presented at Kolbe Corp's Conation Nation Symposium in Tempe, Ariz., on Oct. 11.
"Our mission is to help people understand instinctive strengths and use that understanding to improve their lives in the ways they care about most," said David Kolbe, CEO of Kolbe Corp. "The Conative Excellence Awards recognize and celebrate people already taking this concept and making it a reality. Strategic Coach is an outstanding example of this effort."
Conation Nation Symposium was attended by 150 individuals and featured keynote speakers such as General William Scott Wallace (Ret), top attorney David Tierney, Esq., and conation expert and best-selling author Kathy Kolbe.
About Kolbe Corp
For more than 35 years, Kolbe Corp has helped people identify their instinctive talents and use their innate abilities to succeed. Kolbe's online assessment, the Kolbe A™ Index, is used by individuals and corporations alike. Clients throughout the United States and in 34 other countries rely on Kolbe's products and services to hire talent, increase productivity and build effective teams.