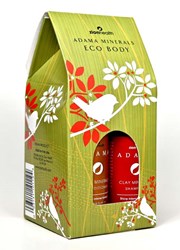 San Francisco, CA. (PRWEB) October 20, 2013
Zion Health is pleased to announce that a trio of natural healing clay products are now available in an eco-friendly gift set for women. Adama Minerals Ancient Clay Soaps, Mineral Shampoos and nutrient-rich Conditioners come together in a portable size special occasion gift package for a natural, whole body purifying experience. A limited supply of Eco-Body Care gift for women is now available for Wholesale orders to retail outlets in the U.S., Canada, and Australia. Visit http://www.zionhealth.com for wholesale order information.
Leading natural body care manufacture Zion Health offers organic products with unique minerals from calcium montmorillonite clay to purify, rebalance and restore dry skin and hair. Calcium montmorillonite (http://www.aboutclay.com/info/Articles/safe_effective_detox.htm) clay holds a negative electromagnetic charge that detoxifies the body when activated with water. Calcium montmorillonite is derived from rich volcanic ash and provides more than 60 essential trace minerals that is known to improve scalp health and nourish nutrient-depleted skin.
As vegan personal care products with organic botanical extracts, Adama Mineral Shampoos and Conditioners are cruelty-free, paraben-free and silicone-free. Silicones are often used in hair care products to create shine, but environmental supporters have serious concerns regarding the potential eco-damage by silicones. Along with Ancient Clay Soaps, Adama hair care products use natural emollients like jojoba oil, coconut oil and essential oils to provide hydration and minerals to dry skin.
Adama Minerals Eco Body Gifts are suited for any special occasion or holiday for the environmentally conscious consumer. Zion Health's Adama Minerals Eco Body Gift and other organic, natural ancient clay products are available for wholesale orders and retail orders online at http://www.kanwaminerals.com. Zion Health provides its consumers with pure skin and body care products that are vegan, free of parabens and aluminum and formulated using certified organic ingredients whenever possible.