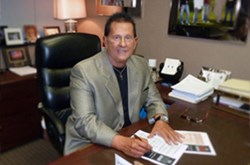 Phoenix, Arizona (PRWEB) October 21, 2013
For the 4th issue of Arkansas Trucking Report in 2013, Ahern & Associates CEO and founder Andy Ahern was asked to give his opinions on the state of acquisitions in the trucking industry. Well-respected as a transportation and logistics acquisition specialist, Andy Ahern has offered his knowledge and expertise in over 420 trucking acquisitions. He is no stranger to the Arkansas Trucking Report and has worked with the well-respected publication in the past.
In his most recent interview, Ahern describes how his role as a "matchmaker" for trucking businesses has allowed him to observe the challenges facing the industry including federal regulations, driver shortages, tax laws, and more—making it harder for many trucking companies to stay afloat, much less become successful. As pressures mount, many of the trucking businesses are looking to sell to larger competitors with the objectives to expand their footprint". Unfortunately, Ahern notes that many business owners are not prepared or aware of the rough realities regarding a sale of their business. "Most of them don't have an exit strategy. We say 'Do you have any idea what your business is worth?' and most of them think it's worth too much," states Ahern.
Nonetheless, Ahern goes on to note that with proper due diligence: clear understanding of each business' objectives and goals, and some mental preparation, a business acquisition can be an incredibly gratifying experience for all parties. With a record number of transportation acquisitions already closed in 2014 and more on their books for the 4th quarter Ahern is in a unique position to comment and has already become a knowledge resource for the trucking industry. His weekly newsletter the Ahern Advisory is regularly ready by over 450,000 trucking and business owners in America and beyond and his podcast regularly tackles economical, business management and trucking specific issues.
Ahern & Associates are a Phoenix-based consulting company that specializes in transportation and trucking businesses. To learn more about Ahern & Associates' transportation consulting services, visit their website at: http://www.ahern-ltd.com.
###
About Ahern & Associates, Ltd.
Ahern and Associates is North America's leading trucking and transportation management consulting firm. The skilled consultants at Ahern and Associates specialize in mergers and acquisitions of trucking and logistics companies as well as the restructuring and evaluation of existing carriers that seek to increase operating efficiency and improve profitability. Since 1987, Ahern and Associates has aided hundreds of buyers in the acquisition of trucking and logistics companies throughout the U.S. and Canada as well as assisting many transportation and logistics companies in reducing their overall operating costs and increasing their profitability.
For more information, please call 602-242-1030 or visit http://www.ahern-ltd.com.