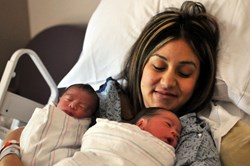 'It was always our dream to start a family. It was amazing to learn how many others believed in our dream right along with us. Thank you Sher Institute for making this dream a wonderful reality.' - Jennifer Popp, Free IVF Winner
(PRWEB) October 22, 2013
Ana and Mark Nicolas desperately wanted a baby. But after trying and failing the old-fashioned way they decided to seek help through infertility treatment. But the treatment they needed – In Vitro Fertilization (IVF) http://haveababy.com/infertility-treatments/in-vitro-fertilization-ivf/ – costs upwards of $10,000, a number they couldn't afford. So, what were the Nicolas' to do?
Mark works at Spring Valley Hospital where Sher Fertility Institute Las Vegas was hosting an educational seminar and donating a free IVF. Mark signed them up. They attended the seminar and won the free IVF. A year later their twins Max and Hope were born.
"It is really a dream come true to have these babies as our own," said Ana. "I never could have imagined last year at this time that we would be a family. I will always be grateful to the Sher Institute for giving us this chance."
Mark and Ana are just one of the hundreds of couples who have realized their dream of parenthood thanks to donations from the Sher Fertility Institute.
Las Vegas Couples will get their next chance to win their shot at having a baby on October 28th when Dr. Geoffrey Sher hosts another educational seminar where he will once again be donating a free IVF cycle.
Prospective parents can enter to win by liking the Sher Institute Facebook Page https://www.facebook.com/HaveABaby.
Financial barriers are a major hurdle for couples facing infertility. An estimated 1 million couples need IVF and only 10% of those can afford the top-line and most effective treatment of IVF.
This is why Dr. Sher and Sher Institute created the "Giving Back" program. Through this program Sher has donated hundreds of cycles through seminars, online video contests and now through Facebook, He also created Fertility Rescue for cancer patients so they can freeze their eggs for free prior to chemo or radiation.
"Everyone deserves to have access to services that allow them to achieve the basic dream of having a family," said Dr. Sher, "One component of this is the knowledge and empowerment to take charge of their own treatment, which we try to provide at these seminars. The other component is the financial aspect. Since many deserving couples don't have the means to pay for treatment out of pocket, we are happy to be able to donate treatment to a number of those couples."
And yet Sher has his share of critics, Time Magazine called one of his video contests "exploitive". Other naysayers claim the donation of IVF treatments by raffle or random trivializes the desire to have a baby by taking advantage of couples who are struggling to conceive. And now the latest wrinkle; asking people to like their page in order to have a chance to win.
Registration for the October 28th seminar and chance to win is on the Sher Facebook Page https://www.facebook.com/HaveABaby or website http://www.haveababy.com/hope/.
About Sher Fertility Institute
Sher Fertility Institute is a national network of fertility clinics specializing in leading-edge technology, personalized infertility treatment, and compassionate reproductive care. SIRM Founder Dr. Geoffrey Sher established the first private In Vitro Fertilization (IVF) program in the United States and is a recognized authority and pioneer in the field of reproductive medicine. Dr. Sher and the institute's other fertility specialists have been influential in the development of dozens of important breakthroughs in the treatment of infertility and reproduction.