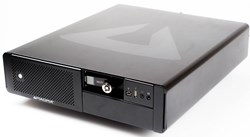 San Diego, CA (PRWEB) October 17, 2013
Magma, a developer of computer expansion products for servers, desktops and portable platforms, today announced the introduction of the ROBEN-3 (pronounced "robin") at the 135th Audio Engineers Society Convention (AES) in New York City. ROBEN-3 is the first set of offerings in Magma's newest series of Thunderbolt™ capable expansion computing products. The ROBEN series is designed to be the "ultimate sidekick" expansion solution for creative professionals.
"The ROBEN-3 is like the 'Boy Wonder' of the expansion computing world," said Magma president, Timothy Miller. "We put the same time and effort into this product that we put into our 'mission critical' systems that are used in defense and aerospace operations. That means, that you can count on ROBEN to be your ultimate sidekick, and perform when you need it most."
The ROBEN-3 is available in three model configurations that include Thunderbolt™ and native PCI Express host computer connection options. It has the potential to house three-full length, full-height Peripheral Component Interconnect Express (PCIe) cards. Additionally, three different ROBEN-3 models offer unique features for full customization. The ROBEN-3 basic model offers the potential of (2) 5.25-in drive bays, while the ROBEN-3 storage model offers (8) 2.5-inch hot swappable bays, and finally the ROBEN-3 Mac Mini version allows for a direct integration of an Apple Mac Mini, making it the most versatile Thunderbolt™ product ever offered by Magma.
"There are mission critical applications in every business," says Magma ceo, Randy Jones. "We know what it means to have a product that has to work every time, no exceptions. That's what customers should expect from the ROBEN series. ROBEN is your expansion solution when failure is not an option."
Magma will have the ROBEN-3 on display in the Avid Partners Pavilion at the AES show until Sunday, October 20th with product experts on hand at the show to answer questions. Magma currently features a line of expansion computing products that have been Avid approved for Pro Tools applications. The ROBEN series of products has been designed to meet or exceed all prior performance standards for Magma's Thunderbolt™ capable products.
About Magma
Magma develops and manufactures expansion computing solutions using Peripheral Component Interconnect (PCI), Peripheral Component Interconnect Express (PCIe), and Thunderbolt™ for servers, desktops and portable computing platforms. Magma's line of products includes enclosed and non-enclosed solutions ranging from single slot expansion products to fault-tolerant, Reliable Available Serviceable (RAS) systems specifically designed for mission critical environments. Magma products are platform independent and are used in a variety of industries including audio and video production, test and measurement, medical imaging, surveillance, aerospace and defense, telecommunications, data acquisition, and high performance computing. Magma's team of experienced engineers has been developing expansion and connectivity solutions since 1987 and holds more than a dozen technology patents, making them a pioneer and leader in the market space. All Magma products are designed and assembled in the United States. For more information about Magma visit http://www.magma.com.