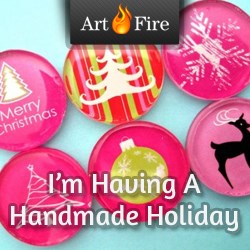 ArtFire is sharing our holiday promo plan early to help sellers, and buyers, make the most of this holiday season.
Tucson, AZ (PRWEB) October 17, 2013
As a consumer you'd be forgiven for begrudging the holiday creep that pushes its way into the fall holidays. As a business owner, however, you can't ignore the early shopping trends, or assume that shoppers will wait for you to roll out your holiday merchandise.
ArtFire is announcing their holiday promotion plan early in the holiday season, so that each of their sellers has an opportunity to prepare accordingly and take full advantage of ArtFire's holiday promotion programs. According to Tony Ford, COO of ArtFire, "The primary goal of our plan is to get ArtFire items in front of as many people as possible, and encourage them to shop with ArtFire for the holidays."
The four point plan covers shopper focused email newsletters and online content and holiday themed contests focusing on gift ideas and shopping, as well as increasing ArtFire's Google Shopping budget. Google Shopping is a Pay Per Click (ppc) shopping engine that costs money every time a shopper clicks on a product. ArtFire will increase their Google Shopping budget by 50-100% over the holiday season.
The fourth part of the plan is to aim for 400 million impressions across all organic and paid channels available. Tony Ford states, "These targeted shopper impressions have a $2 million USD advertising value, and ArtFire is working all of these channels to bring that equivalent value to our sellers."
Here's the breakdown, straight from ArtFire's strategy plan:
Social media marketing: 15,000,000 impressions
ArtFire currently engages 10 separate social media and social shopping channels (always looking for the next big one!). Our messages, updates, posts and tweets get shared and seen by millions each week.
Social media contests: 5 × 100,000 fans/followers
Contests during the holidays have a dual purpose: get ArtFire in front of our audience's audience (a.k.a. viral sharing); crowdsource the creation of good-looking wish lists and gift guides featuring ArtFire items.