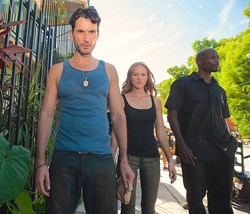 ...join in with me and help support this movie Overtown and once again show Hollywood how real street movies are made. - Cess Silvera (Director)
Hollywood, CA (PRWEB) October 17, 2013
Chad "Ochocinco" Johnson has joined a new all-star team in Miami — except this time, it's not on the football field. Morningstar Films reports that the former NFL star is making his big-screen debut in Overtown, a new film by Shottas director Cess Silvera about street life in one of Miami's most notorious slums.
Johnson will be joined by a high-powered cast that includes X-men's Vinnie Jones, True Blood's Kelly Overton, and The Walking Dead's Lew Temple. Latin soap star Khotan Fernandez and Jamaican music legend Mavado will also feature in the follow-up to Silvera's Jamaican gangster cult classic.
According to Silvera, all the A-list interest in Overtown has come as a welcome surprise, but at a cost he didn't anticipate when planning the indie film's modest budget. To offset ballooning costs, the director has taken to the crowdfunding site Kickstarter in hopes of reaching fans of Shottas, which earned tremendous popularity, but no profits after a bootleg copy was leaked before the film's official 2002 release.
"My biggest concern is the movie itself, I need to put as much of the money I have onto the screen," Silvera says. "So let me cut to the chase, join in with me and help support this movie Overtown and once again show Hollywood how real street movies are made. I don't want this to be only my movie, lets make Overtown OUR movie."
'More heart and soul'
Based on the project's Kickstarter page, Shottas fans will not be disappointed: the new thriller promises to deliver all the raw, rough excitement they've come to expect from the director. But behind the grit and glitz is bigger message that comes straight from Silvera's heart:
"I want to bring attention the violent, drug-ridden culture of poor neighborhoods, but with more authenticity than big-budget Hollywood films," says Silvera, who grew up on Overtown's streets. "Our movie will have more heart and soul, not to mention humor and street-life realism. Our movie is based on true events, just like Shottas was. Our movie will show Hollywood that we don't need millions of dollars to make movies that the streets love and cherish."
Overtown is based on a true story of three friends from vastly different backgrounds, tied together by their struggle to survive in the Miami ghetto. They decide to take matters into their own hands by infiltrating the oceanfront mansion of the local drug lord, but things don't go as planned and Dusty (Johnson), Raul (Fernandez) and Tammy (Overton) are left with blood on their hands, drugs in their trunk, and the most dangerous people in Miami out to get them.
Cool prizes
Kickstarter supporters will have the chance to win a variety of cool prizes, including a full day with Silvera exploring the Miami he knows and loves — the Miami he is bringing to life on screen in Overtown. At the end of the day, Silvera will bring the backer and a guest to watch his buddies LeBron James, Chris Bosh and Dwyane Wade tear up the court at a Miami Heat game at American Airlines Arena.
Other notable prizes include the chance to play a role in one of the film's death scenes, and the actual 1951 Chevy used in the movie.
To learn more and help Overtown become the baddest gangster flick since Shottas, visit .http://kck.st/19Pmg4L.