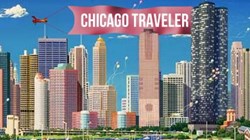 The editors of ChicagoTraveler.com recommend screaming in terror at Asylum Xperiment, Dungeon of Doom and Fear City.
Chicago, IL (PRWEB) October 21, 2013
Halloween in Chicago cannot be beat, and there is no city more prepared to give its residents (and travelers) a spook to remember. ChicagoTraveler.com has put together a guide to this year's best haunted house options, and with a few weeks left there is still time to give yourself the creeps (and the nightmares to follow). The editors of ChicagoTraveler.com recommend screaming in terror at Asylum Xperiment, Dungeon of Doom and Fear City. Haunted houses are a must when it comes to things to do in Chicago during this spooky October season.

This year's Asylum Xperiment has taken a good scare to the next level. With three separate terrifying haunts, Asylum Xperiment has exceeded all limitations when it comes to a legitimately freaky experience. And with an interactive opportunity to scare other patrons, Asylum Xperiment brings guests into its twisted world of terror. The three separate attractions are creatively constructed and brilliantly executed:
Home for the Horrordays: The adventure begins in the house, with several holiday nightmares and actual falling snow.
Subterranean: Experience the grime of the haunted house's underbelly deep in the bowels of the evil building.
Armageddon: Experience the bitter end as clowns and steampunk bikers ravage the world and battle in a post-apocalyptic war.
The Dungeon of Doom brags the chance to be chilled to the very bone with legendary scares that keep Chicagoans coming back each year for more frights. Located in the Warwick building in Zion, IL, the Dungeon of Doom has earned a reputation of having nightmarish haunts and always creating unbelievably terrifying characters.
This year's Dungeon of Doom includes an opportunity to get in on the freakish fun with an interactive possibility for a measly $10 more. The Dare to Scare interactive opportunity gives ticket holders the chance to get behind the scenes and try their hand at spooking other Dungeon of Doom victims. The Hades Boiler Room is another highlight this year, with a twisted and disgustingly realistic chance to experience a nightmare.
Test the very limit of fear at the Fear City Haunted House. Located just outside of Chicago, this nauseatingly perfect depiction of gruesome scenes and terrifying characters makes Fear City a haunted house to fear. Bring a friend, but don't be surprised when you find yourself alone and terrified after everyone has run. Characters designed to make hearts skip beats wait around each corner, so come a feel the fear.
This year Fear City has paired up with Fables Studios and brings patrons an interactive haunted sideshow called Carnivale. Join the freakshow and uncover the twisted secrets behind Fables Carnivale.
On October 26, families are invited to join the fun at Fear City's "Trick or Treat Fest," an event for children of all ages. Facepainting, a bounce house, ghost stories, and other family fun will be available for a $6 entry fee.
---
About ChicagoTraveler.com:
Chicago is one of the top vacation destinations in America famous for its annual events, popular foods, and architecture and top sports teams. ChicagoTraveler.com guides travelers to all the best things to do, top places to eat and deals on the best places to stay in Chicago. Lindsey Skinner, the editor of ChicagoTraveler.com, loves helping plan trips to Chicago.