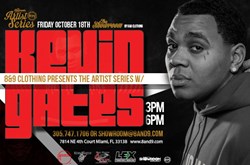 Miami, FL (PRWEB) October 18, 2013
Friday October 18th, Miami based 8&9 Clothing company will host another Artist Series event with Louisiana artist's Kevin Gates. The RSVP event will be held in the company's private showroom from 6-9 p.m. Fans will have the opportunity to meet the artists, network with some of Miami's taste makers along with checking out all of 8and9's latest clothing. Beverages provided by Remy Martin VS and music provided by South Florida's finest.
Kevin Gates along with Starlito & Don Trip, currently on their "Stranger Than Fiction", will be performing shortly after at Eve Miami. Doors open 10 p.m. Doors open at 9 p.m.
For more information on The Showroom, Kevin Gates meet & greet, ask 8and9 on twitter @8and9 email showroom(at)8and9(dot)com or text 305.747.1706. Media and press contact Napps for interviews.