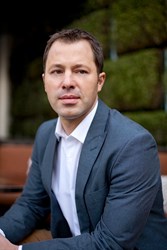 "Video is the fastest growing segment of digital advertising, and Mixpo has been built for this multiscreen video world. I'm incredibly excited to bring our solutions to publishers, advertisers, and agencies," said Jeff Lanctot.
Seattle, WA (PRWEB) October 17, 2013
Jeff Lanctot, a 14-year agency and ad tech veteran, is taking the CEO post at Mixpo, a fast growing provider of multiscreen video ad solutions, the company announced today. Lanctot has been one of Mixpo's most active board members for the last four years. One of the company's founders, and CEO to date, Anupam Gupta, will continue on Mixpo's Board as a Director.
"I believe in our people and our product, and more importantly, so do our customers," said Jeff Lanctot. "Video is the fastest growing segment of digital advertising, and Mixpo has been built for this multiscreen video world. I'm incredibly excited to bring our solution to publishers, advertisers, and agencies."
Prior to accepting the new role, Lanctot held various executive-level positions at aQuantive, the parent company to three digital marketing and technology companies, including Razorfish, now owned by Publicis. His roles at Razorfish included GM, Chief Strategy Officer, and most recently, Chief Media Officer (CMO). As CMO, Lanctot had oversight over Razorfish's global media business and, prior to that, partnerships, investment strategies and international expansion. While at Razorfish, Lanctot managed Razorfish's worldwide media buying and planning for top-tier clients like Disney, Coors, Expedia, Nike, Best Buy and Weight Watchers.
Lanctot also spent time as Managing Director for the Advertiser & Publisher Solutions (APS) Group at Microsoft, where he was a member of the leadership team that drove platform development for Microsoft Advertising, focusing on product strategy as well as business development with Microsoft's partners in the advertising industry.
"I am very proud of what Mixpo has built so far, and incredibly excited about the growth opportunities ahead," stated Anupam Gupta. "I look forward to continuing to guide the company in the role of Board Director. Jeff is exactly the brand of talent we need to take Mixpo to the next level. I'm thrilled to pass the torch to him at this momentous time."
Mixpo provides an intuitive, quick turn cloud-based platform that enables advertisers, agencies, and media companies to easily transform TV ads (or YouTube videos) into interactive video ads that run on any screen and in the newsfeeds of any major social site – providing consolidated reporting across all. Forbes recently named Mixpo, whose revenue has grown at a CAGR of 98% over the last three years, to its 2013 list of America's Most Promising Companies.
Six of the top 10 US video sites and 70 of the top 100 advertisers in the US, as enumerated by AdAge, use Mixpo for multiscreen video ad solutions. Mixpo's video ads run in the news feeds of five of the top five social properties including Facebook and Twitter. The company is a winner of the IAB's 2013 Digital Video Rising Star Awards competition and a 2013 recipient of MediaPost's OMMA Global Award for Online Creativity.
Lanctot is the recipient of numerous industry awards, including a 2013 ad:tech Industry Achievement Award, Advertising Age's Media Maven Award, MEDIAWEEK's Media All-Star award, and B2B Magazine's Best Brightest Media Strategist award. He was also named one of Media Magazine's 50 Most Influential People in Online Advertising and MEDIAWEEK's Top 50 Media Executives.
According to eMarketer, online video is the fastest growing segment of digital ad spending in the U.S. They expect digital video spend to more than double, from approximately $4 billion to $8 billion between 2013 and 2016 while online ad spend more broadly speaking grows roughly 36%. Meanwhile, according to the IAB, brand budgets for mobile advertising, including mobile video, have shot up 142% in just the last two years. eMarketer predicts that by 2017, mobile spend, at $31 billion, will represent not only half of all online spend in the US, but 15 percent of all ad spend period ($197 billion) – linear TV included.
This week the company released an industry report "Demystified: Video Advertising on Social Networks", comprising survey data from over 100 ad agencies along with relevant third party research. Mixpo releases new product and platform capabilities each month.
About Mixpo
Mixpo enables media companies and agencies to execute cross-screen, cross-social video ad campaigns. Our video ad products are polished, innovative, and can be tailored or created from scratch. Set up is fast whether we teach you to do-it-yourself or you utilize Mixpo as a managed service. We furnish the industry's most comprehensive analytics, powered by big data, including ad verification and campaign performance segmented by DMA, audience, and mobile device.
In 2013, Forbes named Mixpo one of America's Most Promising Companies. The IAB selected Mixpo as a winner of its Digital Video Rising Stars competition. Mixpo is headquartered in Seattle, with offices in New York, Boston, and Victoria BC.