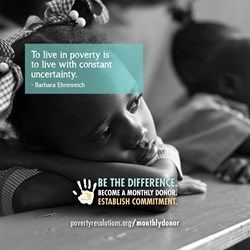 Poverty Resolutions channel just reached 500,000 views!
New York, NY (PRWEB) October 16, 2013
Education is a powerful thing. One way to educate others outside of the classroom is to make facts and information available to those who want it. Poverty Resolutions has decided to do just that with their new approach in marketing. In today's society, social media is all the rage. Teenagers and adults alike are getting on YouTube, Facebook, Twitter, and email to see what the latest news is, what is going on with friends and family, and searching the internet to find out information on any and all topics. Realizing that this is where our culture is heading, Poverty Resolutions decided to join in and allow their social media and website searches to promote a greater cause. Google search Poverty Resolutions and you will find a non-profit organization that is disgusted by poverty and wants to do something to eliminate it from the world. Visit their YouTube page to see videos that are created to raise awareness and to give others a glimpse of Haiti's poverty. Poverty Resolutions has started their work in Haiti, one of the poorest countries in the western hemisphere, and plan on taking their sustainable solutions around the globe.
Not only does their non-profit website provide you with information about who they are and what they do, but their social media is also helping to raise awareness—something Poverty Resolutions feels very strongly about. Go Facebook the Poverty Resolutions page, and you will see pictures, quotes, statistics, and facts about Haiti and poverty. The facts and information provided might be something that people would not see nor hear about otherwise. Check out their Twitter page to find tweets about Haiti, dollar-a-day poverty, and what people can do to help. Not only do they provide information to the masses through their use of social media and Internet, but they also want to let others know that there is something that can be done.
Many times, the individual person feels as if they are too insignificant to make a difference or to have an impact towards something that is important. Poverty Resolutions realized that through monthly donations and support, they can bring the vision of the individual people together in order to eliminate poverty one country at a time.
Join together with Poverty Resolutions and help make a difference, share their pictures, spread the facts and information to others, and donate to the cause of eradicating poverty around the world.
Poverty Resolutions is a 501(c)(3) non-profit organization dedicated to the eradication of poverty around the world. They aim to educate others in order to increase awareness of global poverty and to also inspire people to take action. In Haiti, they provide sustainable solutions to poverty, which empower individuals and organizations to meet the needs of their communities.
Poverty Resolutions is based out of Doylestown, PA.
To learn more, visit: http://www.povertyresolutions.org.