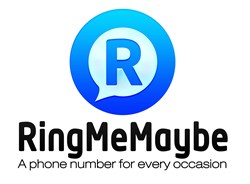 You will never again have to give away your real phone number outside your circle of trust.
San Francisco, CA (PRWEB) October 17, 2013
yourVirtualSIM, the expert in Mobile telephony, today announced the release of RingMeMaybe, a disposable phone number generating app for iOS devices that creates real U.S. phone numbers in seconds. With RingMeMaybe, iPhone, iPad, and iPod Touch users can access unlimited numbers for convenient and anonymous communication, removing the need to ever publicly reveal primary phone numbers. RingMeMaybe utilizes VoIP technology to enable anyone who requires a temporary or disposable number to receive incoming calls just like a traditional phone number, for a low flat rate. RingMeMaybe allows those travelling abroad to stay connected to their work and personal life without facing roaming charges due to the integration of VoIP.
"As our online interactions become more complex and we engage with a wider community, people must constantly choose between giving strangers their personal number and sacrificing the convenience of telephone contact," said Alex Botteri, founder of yourVirtualSIM. "RingMeMaybe frees users from that dilemma by providing access to unlimited temporary and disposable phone numbers and control over who they connect with in any context. You will never again have to give away your real phone number outside your circle of trust, and can easily distinguish those who are calling you for each project through the tagging feature."
RingMeMaybe generates real U.S. phone numbers that automatically link to a user's iOS device, allowing users to receive incoming calls through VoIP technology even when the app is not open. Since VoIP operates through an Internet connection instead of cellular plan, RingMeMaybe eradicates fees and roaming charges while facilitating the freedom of phone access across all iOS devices. For less than a dollar, RingMeMaybe users can use their virtual number for a week, with the option to extend access or throw the number away. Users are initially given two free numbers when the app is downloaded.
"RingMeMaybe has made managing my rental property so much easier by allowing me to create a new number and distinct tag for each room. Now I know which room a caller is inquiring about before I even pick up the phone," said Susan DeVore, Craigslist holiday home renter. "I feel safe knowing I don't have my personal number posted for all the Internet and spammers to see, without being tethered to email for tenant communication. RingMeMaybe has streamlined the renting process for me, as once a project is completed, I can dispose of the number."
The layer of privacy created by a RingMeMaybe virtual number is valuable in a wide variety of situations, including initial contact with online dates and professional contacts, connection with clients abroad, and interaction with online vendors. RingMeMaybe users can create a unique number for each purpose "tagged" to the category of people with whom the number was shared, such as 'Airbnb listing' 'Tinder dates,' 'LinkedIn Networking,' or 'London clients.' The incoming call display alerts the user to which tagged number is contacting him, so he can determine the context of the call and answer accordingly. This feature allows users to interact efficiently with strangers while keeping their real number safe until they choose to share it.
RingMeMaybe account features include:

Easily create disposable number in five seconds
Tag numbers to specific projects so that those calling you can be easily identified
20 credits with download– the equivalent of two new virtual phone numbers
All calls made to these virtual numbers free to receive
No payment by the minute – flat rate for unlimited calls
Virtual number expires after a week, but can be extended indefinitely by applying more credits
Less than a dollar ($0.99) for each new virtual number added, or extension to an existing number
Capacity to earn credits through activities on offer wall
Unlimited calls allowed for no additional fee
Convenient visual voicemail access
Option to delete a virtual number at any time
Download RingMeMaybe from the AppStore now!
Pricing and availability:
RingMeMaybe is available immediately and users automatically receive 20 credits (2 phone numbers). Credits for an unlimited number of additional numbers, or to extend an existing number, are available for a flat rate of $0.99 per week, or at no cost through credits earned via the offer wall. For more information, visit http://www.RingMeMaybe.com.
About yourVirtualSIM:
yourVirtualSIM is an expert in mobile telephony. The San Francisco, Calif.-based startup partnered with Telecom carriers to create the next-generation IP-based virtual telephony platform. yourVirtualSIM makes the power of cloud telephony available to anyone with a smart phone. RingMeMaybe is the first mobile app to leverage yourVirtualSIM's telephony platform, creating a virtual Call Center in the palm of your hands.
RingMeMaybe is free to install using the Apple AppStore here and comes pre-loaded with 20 credits (enough for 2 disposable phone numbers). Each subsequent number requires 10 credits and can be obtained through payment of $0.99, or at no cost by completing tasks on the offer wall. For more information, please visit http://www.RingMeMaybe.com. Follow us here and like us on Facebook here.