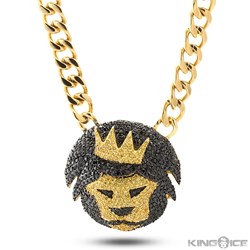 The company has consistently been at least 4% of Kazbah's total monthly sales since August.
Los Angeles, CA (PRWEB) November 04, 2013
King Ice, an online hip hop jewelry retailer, has become one of the best-selling brands on Karmaloop's independent marketplace, Kazbah. King Ice specializes in urban jewelry and apparel. The site is popular for its selection of quality chains, watches, pendants, earrings, and bracelets. King Ice joined Karmaloop's Kazbah marketplace in July to sell their most prominent items. In a span of four months, King Ice has become one of Kazbah's most successful brands. The company has consistently been at least 4% of Kazbah's total monthly sales since August. King Ice is currently preparing to increase their presence on Kazbah for the upcoming holiday season.
Karmaloop was launched in 2000 by Greg Selkoe. The e-tailer's goal was to aggregate the world's most popular streetwear brands under a single domain. As of 2013, the Karmaloop website averages 4.5 million unique visitors a month. In 2006 the company launched Kazbah, an independent marketplace for emerging brands. Through Kazbah, brands are able to sell products directly to consumers. The Kazbah marketplace is similar to Amazon's seller central where retailers set prices and fulfill orders. Kazbah however, vets all applicants to ensure superior products and customer service.
King Ice was invited to join Kazbah in July. In thirty days of listing their first item the brand became a top selling brand on Kazbah. Because of their early success, King Ice plans to introduce new products to Kazbah.
"Our product line is a perfect fit for Karmaloop's Kazbah streetwear collections," said Cuong Diep of KingIce.com. "We became one of the top brands with less than one hundred active products. We plan to double the amount of products before the holiday season. We're working closely with Kazbah management to achieve our sales goal and strengthen the Karmaloop brand."
To view the company's products, visit King Ice's brand page on Karmaloop's Kazbah.
About King Ice
King Ice is the leading online retailer for hip hop jewelry and accessories. The urban jewelry company is known for their selection of men's earrings, chains, pendants, watches, bracelets, rings, apparel, and accessories. King Ice also carries name brand products such as Gucci, G-Shock, Hustler, Beats by Dre, and Mitchell & Ness. King Ice has worked on custom pieces for Snoop Lion, Mike Tyson, Bone Thugs-N-Harmony, The Game, and more. For more information visit KingIce.com and follow us on Facebook.