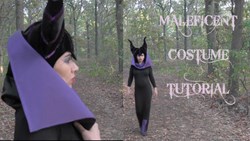 New York,NY (PRWEB) October 17, 2013
Felicia Zanguiabadi of SweetMaterial.com received many requests from subscribers to create a tutorial for an attention-grabbing costume for Halloween. Felicia chose the well-known Disney Character from Sleeping Beauty called Maleficent. The new video tutorial has now been uploaded to her website and YouTube. Felicia has given Maleficent a bold new sexier look that is sure to catch everybody's attention. The new look encompasses a form fitting dress with a collar. Included is a make-up tutorial for those folks interested in giving themselves the finishing touch.
The new Disney Production will be coming out around May 14, 2014, and will star Angelina Jolie. Billed as a "Fantasy Thriller," the villainous Maleficent will continue entertaining theater goers with her dirty deeds, and makes for a delightful Halloween Costume. SweetMaterial.com is proud to add this how-to tutorial to their expansive video library that has been enabling both professionals and amateurs alike to create fashions in the comfort of their homes.
Felicia's YouTube Video Channel received so much support from her fans that she was inspired to create SweetMaterial.com. This would be the "Go-To" place for learning about creating unique garment pieces at home, outside of a classroom. Thousands of people have viewed her Video Tutorials and have learned exciting fashion designer's tips and tricks. The SweetMaterial Blog also covers other relevant topics such as health and fitness, and discusses what is currently in vogue as well as what's on the horizon for future trends.
Felicia attended the Fashion Institute and has interned with world-renowned fashion designer Vera Wang. Determined to share her knowledge with others, she developed tutorials for sewing, draping, cutting and designing garment pieces. In a relatively short span of time, her videos rose to be among the Top Ten YouTube instructional videos.
Complete information is available at: http://www.SweetMaterial.com