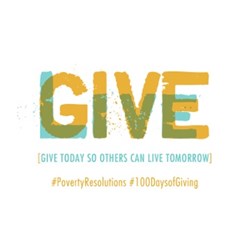 Give today, so others can live tomorrow.
Philadelphia, PA (PRWEB) October 17, 2013
It's hard to believe that there are just about 100 days left in the year 2013, but it's true! To make the last 100 days of this year count for something greater than ourselves, Poverty Resolutions is kick-starting a campaign to raise awareness, funds, and support to put towards projects in Haiti that will help to eradicate poverty there and take their non-profit organization to the next level. This campaign is called "100 Days of Giving." Since beginning their journey to eliminate poverty, the goal of Poverty Resolutions has been to change Haiti and to eventually change the world. The main way they do this is through raising awareness and raising support. This new campaign that they plan to launch starting in early October 2013 is to fulfill both of those things.
Poverty Resolutions plans to take their organization to the next level through greenhouses. The money that is raised through this 100 Days of Giving campaign, and the monthly donors who make the commitment, will go towards building greenhouses in Haiti. This past summer they built a few as a trial run to see how the implementation of greenhouses could have a positive result in Haiti. They now believe that this is one of the solutions to the problem of poverty. Greenhouses provide both food and income for families that have neither of those, and create the possibility for Haitians to become less dependent on foreign aid and rely on their own means to provide for themselves and their families. Poverty Resolutions not only builds the greenhouses, but they train individuals to run them efficiently so that the people of Haiti can manage them completely on their own.
For the last 100 days in 2013, Poverty Resolutions aims to have one new monthly donor giving at least five dollars a month each day. That means, they need 100 people to each commit to a day, and also commit to support Poverty Resolutions monthly. Your donations will go towards the projects that are already established in Haiti and your support will help bring awareness to the poverty that plagues so many third-world countries.
Not only can you come alongside Poverty Resolutions and donate to their organization monthly, but you can also make your friends and family aware of the great need there is to fight against poverty around the world. Challenge your friends to give, have your family raise money together, and make the end of this year and the new start to 2014 count for something that will make a lasting difference in our world.
Poverty Resolutions is a 501(c)(3) non-profit organization dedicated to the eradication of poverty around the world. They aim to educate others in order to increase awareness of global poverty and to also inspire people to take action. In Haiti, they provide sustainable solutions to poverty, which empower individuals and organizations to meet the needs of their communities.
Poverty Resolutions is based out of Doylestown, PA.
To learn more, visit: http://www.povertyresolutions.org.