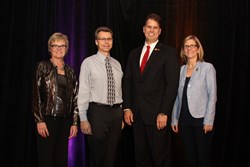 Phoenix, AZ (PRWEB) October 17, 2013
An innovative educator, two successful business owners, and a corporate coaching firm were recently recognized for their efforts to help people understand instinctive conative strengths and use that understanding to improve their lives, their organizations, and their relationships. Conative strengths are the natural, inherent and unchanging human talents that, when acted on, lead to success and well-being for individuals using creative energy to solve problems.
At the Conation Nation Symposium in Tempe, Ariz., the Conative Excellence Awards were presented to Bret Loucks, an instructor at the Herberger Young Scholars Academy in Glendale, Ariz., Performance Strategies Group, Inc. founder and President Mari Martin, Heritage Homes CEO and co-owner Daryl Braham, and entrepreneurial advice firm Strategic Coach® .
Loucks received the Kolbe Founder's Award in recognition of his efforts to further research into the use of conation in education. As an innovator in elementary, middle, and high school education for nearly 30 years, Loucks has won awards for exemplary teaching and has worked as an advocate for student empowerment and efficacy. A student once said of him, "Mr. Loucks is the second best teacher I have ever had. By showing me that I have it within me to learn anything I want and encouraging me to take charge of my own education, I have become my own best teacher."
Martin received the Kolbe Professional Award for Individual Leadership in Building Conative Excellence. Her Michigan-based organization focuses on identifying individual strengths and talents, and accelerates the communication, collaboration and teambuilding process within companies, non-profit organizations and ministry teams.
Braham received the Kolbe Dynamynd® Award for Compassion, Mission and Vision in Leading Others Toward Achieving Goals. With more than 25 years of experience in sales, management, finance, and leadership, Braham is co-owner of five companies, including his own consulting company, iON Leadership, a Prudential franchise, and Heritage Homes, an award-winning home builder in Fargo, N.D.
Strategic Coach, which is based in Toronto, received the Kolbe Enterprise Award for excellence in helping entrepreneurs to leverage their conative strengths to ramp up their businesses. For more than 20 years, Strategic Coach has offered a range of workshops and products that have helped thousands of successful entrepreneurs find balance between their work and private lives while dramatically increasing their income. It now incorporates a full range of Kolbe's products and technologies into their coaching programs for entrepreneurs as well as services for spouses and youth.
"Our mission is to help people understand instinctive strengths and use that understanding to improve their lives in the ways they care about most," said David Kolbe, CEO of Kolbe Corp. "The Conative Excellence Awards recognize and celebrate people already taking this concept and making it a reality. These award winners are all outstanding examples of this effort."
Conation Nation Symposium was attended by 150 individuals and featured keynote speakers General William Scott Wallace (Ret), top attorney David Tierney, Esq., and conation expert and best-selling author Kathy Kolbe.
About Kolbe Corp
For more than 35 years, Kolbe Corp has helped people identify their instinctive talents and use their innate abilities to succeed. Kolbe's online assessment, the Kolbe A™ Index, is used by individuals and corporations alike. Clients throughout the United States and in 34 other countries rely on Kolbe's products and services to hire talent, increase productivity and build effective teams.