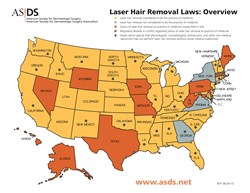 The health and well-being of patients is at stake.
Rolling Meadows, IL (PRWEB) October 17, 2013
A new study showing increasing numbers of lawsuits being filed against non-physicians performing laser surgery has important implications for patient safety, according to the American Society for Dermatologic Surgery Association (ASDSA).
The first-ever comprehensive study of laser surgery liability claims, published Wednesday in JAMA Dermatology, shows patients are filing more injury lawsuits in recent years when laser treatments are performed by non-physicians outside traditional medical settings.
Among other findings, the study shows that despite only one-third of laser hair removal procedures being performed by non-physicians – including registered nurses, nurse practitioners, aestheticians or "technicians" – they accounted for about 76 percent of injury lawsuits from 2004 to 2012. That number jumped to 85.7 percent in the time period from 2008 to 2012, with 64 percent of procedures being performed outside a traditional medical setting.
"This study is critically important in demonstrating to policymakers that laser hair removal is indeed a medical procedure and should be treated as such," said ASDS/ASDSA President Mitchel P. Goldman, M.D. "Increasingly, electrologists, cosmetologists and other non-physicians are seeking the legal right to perform laser hair removal, arguing that these are not 'serious' procedures because they are cosmetic. The health and well-being of patients is at stake."
ASDS surveys show that cutaneous laser surgery is growing in popularity in recent years. The ASDS Survey on Dermatologic Procedures shows dermatologic surgeons alone performed 1.68 million laser treatments in 2012 – up from 1.6 million in 2011. However, ASDS members performed 34 percent fewer laser hair removal procedures in 2012 – down to 318,000 from 480,000 in 2011.
In recent years, study authors said laser surgery – laser hair removal in particular – has been more widely available in medical spas, defined as "non-medical facilities offering aesthetic and cosmetic procedures." The majority of laser treatments in medical spas are performed by non-physicians of varying certifications as permitted by state regulation, the study found.
"Whether a state legally defines laser hair removal or other laser procedures as the practice of medicine directly affects what types of patient protections are in place," said Dr. Goldman. "Cosmetic medical procedure laws vary greatly from state to state, and that means so do patient safety protections."
"Despite these trends and clear inconsistencies in state regulations, no study to date has quantified the effect of these practices on medical professional liability claims with regard to cutaneous laser surgery," said co-author Mathew M. Avram, M.D., J.D., a member of the ASDS/ASDSA Board of Directors, in the study, "Increased Risk of Litigation Associated with Laser Surgery by Nonphysician Operators."
Some states require physicians to assess patients before procedures are performed to make sure they are good candidates and do not have any pre-existing conditions that could be worsened by the procedure. Others specify training and licensure requirements for any individual performing the procedure. Still others require that a physician be onsite and immediately available during the performance of laser medical procedures.
Currently, only Georgia, Iowa, New York and Virginia explicitly consider laser hair removal to be outside of the definition of the practice of medicine. Thirty-three states define the use of lasers, including laser hair removal, as the practice of medicine. Many of these also consider the use of lasers to be the practice of surgery, which is consistent with American Medical Association and American College of Surgeons definitions.
"The remaining states leave the question of whether these procedures are the practice of medicine vague," said Dr. Goldman. "It is this vagary that leaves the door open to allowing laypeople to perform procedures using FDA-designated prescriptive medical devices."
The ASDSA Board-approved position statement asserts that the practice of medicine includes any act or procedure using a mechanical device, or displaced energy form of any kind, if it damages – or is capable of damaging – living tissue. This includes laser hair removal, with the exception of FDA-designated over-the-counter devices.
As such, these procedures should only be performed by appropriately trained, licensed physicians or appropriately trained licensed allied health professionals with a physician onsite and immediately available, Goldman said.
About the ASDSA
The American Society for Dermatologic Surgery Association, a 501(c)6 association, was created to promote the educational and professional interests of dermatologic surgeons; provide a vehicle for advocacy and public education efforts on behalf of dermatologic surgeons and their patients; and address socioeconomic issues that impact the practice of dermatologic surgery as a specialty. The ASDSA advocates for patient safety and access to quality care, skin cancer prevention and education, and fair and appropriate office-based surgery regulation. For more information, visit asdsa.asds.net.
About the ASDS
The American Society for Dermatologic Surgery is the largest specialty organization exclusively representing dermatologic surgeons who have unique training and experience to treat the health, function and beauty of the skin. ASDS members are pioneers in the field. Many are involved in the clinical studies that bring popular treatments to revitalize skin and fill and diminish wrinkles to the forefront. Their work has helped create and enhance many of the devices that remove blemishes, hair and fat, and tighten skin. ASDS members also are experts in skin cancer prevention, detection and treatment. As the incidence of skin cancer rises, ASDS members are committed to taking steps to minimize the life-threatening effects of this disease. For more information, visit http://www.asds.net